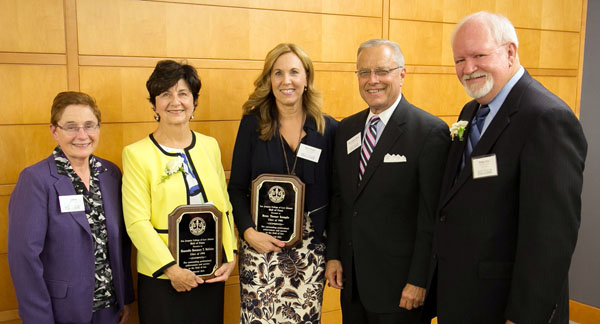 Two women, described by Master of Ceremonies the Hon. Robert Oliver as trail-blazing, hard-working, well-respected, "real" trial attorneys who give back their time and talent to the community and the profession, were inducted into the San Joaquin College of Law Alumni Hall of Fame.
An audience including at least eight judges applauded the accomplishments of the Hon. Rosemary McGuire and attorney Rene Sample at the ninth annual induction ceremony at the Robert E. Coyle United States Courthouse on September 3rd.
Sample, described by Oliver as "an unabashed cheerleader for San Joaquin," admitted she had wanted to be an attorney since she was very young.
"When I was 12, my Dad introduced me to a female judge, and my path was set," she explained, adding it narrowed her to just two career goals. "One was to be a judge, the other was to be a go-go dancer."  She chose trial attorney, adding "I think that's a pretty good compromise."
Following her graduation, Sample spent eight years as a litigator at McCormick, Barstow, Sheppard, Wayte & Carruth.  In 2000, she opened a plaintiff's civil litigation firm with Stephen Cornwell.  She has tried over 50 jury trials to verdict, and is the only female plaintiff's lawyer to have two personal injury jury verdicts in excess of one million dollars. 
Sample has served as an adjunct faculty member at SJCL for 15 years.  She has also served as a Judge Pro Tem in Fresno County Superior Court since 1988, and as a judicially appointed arbitrator for the Fresno County Superior Courts since 1993.
The Hon. Rosemary McGuire also began as a trial attorney, starting as an associate at Eldridge, Anderson and Weakley before making partner in 2001.  Judge McGuire has served in the Fresno County Superior Court since her appointment to the bench in 2010, and is currently assigned to the Family Law Division.
"I love being a judge," she says.  "It wasn't something I originally planned, but it's where I am supposed to be.  It all began at San Joaquin College of Law."
As a lawyer, Judge McGuire served on the Board of Directors of the San Joaquin Chapter of the Federal Bar Association, and is a past president.  She also served on the Board of Directors for the San Joaquin Valley Chapter of American Board of Trial Advocates.  She served on the planning committee for the Eastern District of California District Conference for six years, and served for five years as a lawyer representative from the Eastern District of California for the Ninth Circuit.  She also spent four years on the Eastern District Judicial Advisory Committee.
She's quick to add "This doesn't happen on its own.  Your friends, family, and colleagues are there to assist."  Choking up, she pointed to her husband.  "He was the one who took the kids to their dance lessons and events, which gave me to ability to go to class."
Along with Judge McGuire and Judge Oliver, other members of the bench in attendance included Hon. Sheila Oberto, the Hon. Barbara McAuliffe, the Hon. Richard Lee, the Hon. Houry Sanderson, the Hon. Mark Snauffer, the Hon Gary Austin, and the Hon. Don Penner.
In closing, retired Tulare County District Attorney Phil Cline, a current Hall of Fame member, turned to the two newest members, saying simply "Your excellence sustains this Law School."