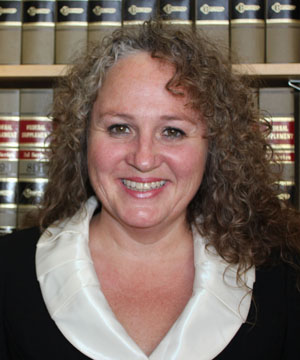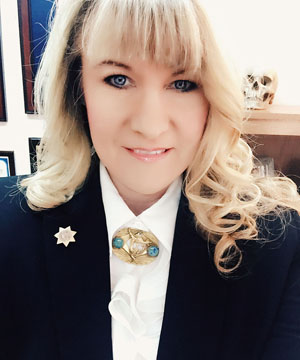 The Hon. Christine Nijjer.                                                                             Hon. Mary Thornton in her previous office at the
                                                                                                                                                   Madera County District Attorney's Office.

Two new ALJs for SJCL!

Christine Nijjer and Mary Thornton are now Administrative Law Judges for the California Board of Parole Hearings.  Their new positions bring the total number of San Joaquin College of Law bench officers to 47.

Nijjer, a 2004 graduate of SJCL, says she heard about the openings last summer as the Board was looking to handle a larger load due to passage of Prop 57, which gave more discretion to the Parole Board.  With her experience at the Public Defender's Office, County Counsel, and, most recently, as a Madera County District Attorney, she felt she was uniquely qualified to understand the intricacy of the position.
Aside from seeking justice for the victims, she had a closer glimpse into crime's "perpetual cycle, created and passed on from generation to generation," adding "What we have been doing isn't working."
In the past, parole focused heavily on the gravity of the crime.  Now the focus is shifting to how the inmate has changed since that time, and their feelings towards the victims of that crime.  Along with punitive justice, rehabilitation and restorative justice have become larger components in parole consideration.

"There are some who still blame the victim and have no insight into how it has effected that person," she says.  They will likely be denied parole and not have another hearing for anywhere from three to 15 years.

As Nijjer began her training as an ALJ in October, she kept in contact with her previous co-worker at the Madera District Attorney's Office, telling Deputy DA Mary Thornton how much she loved the position, how her experience in the District Attorney's Office helped her quickly grasp the terms and ropes of her new job, and how Thornton, a 2008 SJCL grad, should apply.  She did, and was accepted for a post beginning in January. 

Thornton did not start law school until she was in her forties and had kids in high school.  Due to her self-described "late start," she felt a job as a judge was "not even within the realm," pointing to how many years other attorneys practice before they are considered for such positions.  She says the job is not for everyone, pointing to the travel away from home, sometimes for a week at a time as cases unfold in prisons ranging from Wasco to San Luis Obispo and Sacramento.  It would be hard for someone with small children, but for her, "It's an incredible opportunity."