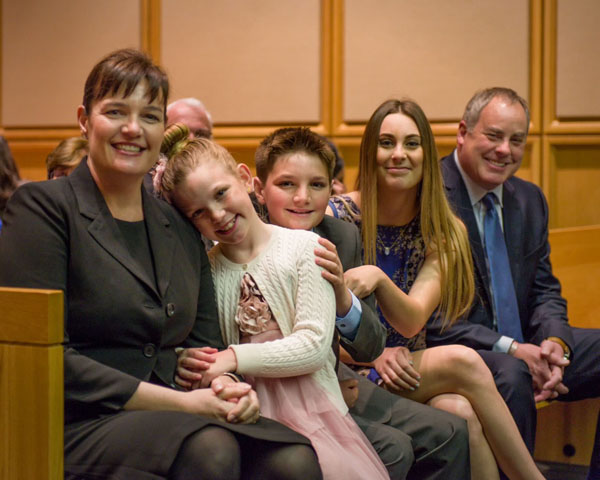 Commissioner Erin Childs and family members.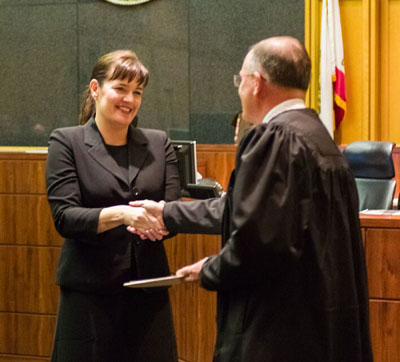 Commissioner Childs is sworn in to office.

"This is a dream come true for me.  I've wanted to be a judicial officer for years and am thrilled and honored that I have been chosen for this position."
 
Erin Childs has been has been hired by the Fresno County Superior Court as a Commissioner.Since her graduation from San Joaquin College of Law in 2002, she has spent over a decade as a family law litigator and collaborative law attorney.  She is one of two Spanish-speaking female family law attorneys in the area.  She feels both an affinity for the clients she serves at the Child's Law Office and the courts that serve them.
"I've been practicing primarily family law for the last 12 years and have spent thousands of hours in these courtrooms for a myriad of legal proceedings.  I know and love family law and will feel right at home in Department 301. We have an impressive bench in Fresno County.  Our judges are smart, ethical, hard-working and come from a wide variety of backgrounds.  I am anxious to begin a long career of serving our community with these great people as examples."
Childs has already served as a great example to students at SJCL, where she currently teaches Community Property.  In addition, she is a Board Member of the California Women Lawyers.  She becomes the eighth alumni of SJCL to serve as a commissioner, and the 41st alumni of SJCL to serve as a bench officer.But in the end, Childs says it takes a little more than just a great education and talent. 
"I owe a lot of my success to my husband and children.  They have been my biggest cheerleaders and the primary reason why I wake up every day and do what I do.  I am truly blessed."
The 41 SJCL Alumni Bench officers now include:
United States Bankruptcy Court Judge
W. Richard Lee, Eastern District of California
United States Magistrate Judge
Gary S. Austin, U.S. District Court, Eastern District of California
Superior Court Judges
James Aaron, Fresno County
Brian Alvarez, Fresno County
Mark Bacciarini, Merced County
Glenda Doan, Kings County
Eric Helgesen, Riverside County
Efren N. Iglesia, Monterey County
Michael J. Jurkovich, Madera County
Rosemary T. McGuire, Fresno County
Kimberly Nystrom-Geist, Fresno County
Don Penner, Fresno County
James Petrucelli, Fresno County
R. I. "Chip" Putnam, Fresno County
Angus Saint-Evens, Glenn County
Houry Sanderson, Fresno County
Alan Simpson, Fresno County
Donna Tarter, Kings County
Charles Wieland, Madera County
Federal and State Administrative Law Judges
Jose Banuelos
Catherine Benko
Eileen Deimerly
James Donabed
William Gunn
Walter Johnsen
Sharon Madsen
Elizabeth Parker
Debra Sandoval
Geoffrey Sims
Nancy Smith  
Barbara St. Louis  
Georgia York  
Duane Young
Court Commissioners
Robert Broughton
Erin Childs
Nancy Cisneros
Jeremias DeMelo, Jr.
Ronda Duncan
Diane Lushbough
Stephen Sefton
Charlotte Wittig