---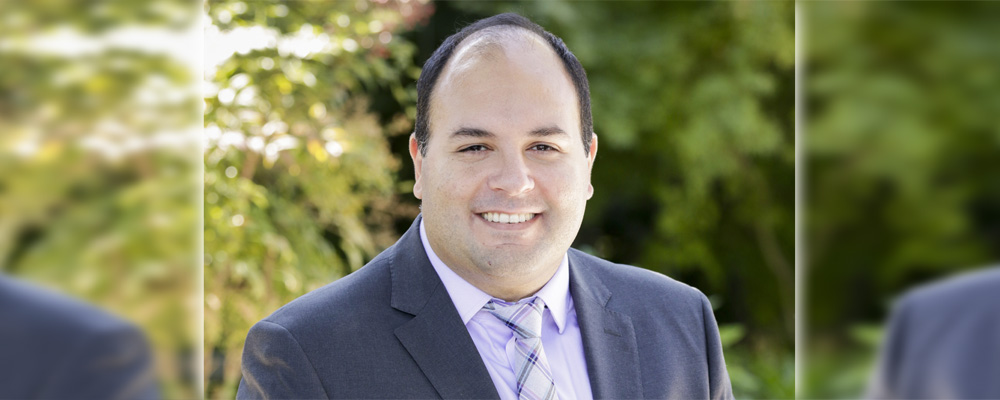 Meet SJCL Adjunct Faculty Babak "Bobby" Shakoory
Meet Bobby Shakoory, a San Joaquin College of Law adjunct faculty and in-house counsel for the Granville family of companies, including Granville Homes. The youngest in his class, he received his first law degree when he was 20 years old and moved to the United States when he was 30.
Learn more about Professor Shakoory, why his love for the law began at an early age and how his past professors and mentors have inspired him to give back to future SJCL graduates and lawyers!
Tell us about yourself and the road that led you to SJCL.
I've always been infatuated with the law and I wanted to become a lawyer at an early age. I was able to skip a few classes from elementary all the way to high school, so I got into law school much earlier than most people and I graduated at the age of 20. I was in Iran at the time, so I practiced law from 2000 to 2009 and after the first few years, I was absorbed in the investment and transactional side of the practice. So I focused more on real estate investments and real estate development after a few years. I started working in the region with some companies and I got some international investment experience. Later on, I left the country and went to Italy for advanced legal studies and I attended a program (Master of Laws: International Business) offered by Loyola Law School in Los Angeles. That's when I got in touch with European attorneys who wanted to attend the same program, so this really expanded my knowledge and connections and gave me a good foundation with American law. After I graduated from that program, my professors encouraged me to continue advanced legal studies in the United States, so I came here and attended Emory Law School in Atlanta. Because of the work I did in Italy, I started with a good law firm and got some experience. When I moved to California, I started with a large equity investment and construction group here that is a branch of Granville Homes. I transitioned more to the investment side and started as an in-house council handling all of the transactional work. After some time, I transferred to the executive side to run a department that's handling all of the local and international investments and that's where I'm at now. Most of my legal practice right now is focused on reviewing and setting up the business structures and reviewing all the documents that attorneys in other countries prepare. On the business side, I deal with a lot of equity and capital investments and business structures like mergers and acquisitions, investments in real estate, etc.
What brought you to SJCL as an adjunct faculty?
One of my colleagues reached out to me because Academic Dean Justin Atkinson was looking for someone. I started teaching Real Estate Investment and Finance, which was an elective course and I taught that for a few semesters. Then I was asked to teach Business Organizations, one of the mandatory courses and I've taught that for the last year and a half.
How would you describe the culture at SJCL?
The smallness of the school is an asset to the culture of SJCL. The school has managed to overcome a lot of academic and bureaucratic hurdles that larger law schools go through. It's easier to achieve certain things compared to other schools where it would take much longer to get things done. They are a nimble and agile group with the ability to change, adapt and modify themselves. For example, last semester I had an issue with finding the right kind of projector for my class presentations and this semester, they've added these modern electronic white boards that are much more helpful and I use it all the time. Anything that I've asked for or suggested, they've made a real effort to provide. Another thing I've noticed is SJCL has been very successful in producing a large number of successful attorneys. A lot of my colleagues and attorneys I've met have gone to SJCL and they have a great career. Compared to schools like UCLA, Stanford or other big name schools with plenty of funding, SJCL runs the school with a fraction of the dollars, yet maintains the quality. They're definitely the underdog compared to other law schools I've seen, but they're doing a great job.
How do you feel knowing that you're teaching future successful lawyers?
That's why I'm doing this. I've come from a family of teachers and both of my parents were professors. Teaching was always part of my life and the best satisfaction is working with the young and promising minds of the future with so much potential. Knowing that what you're teaching them is contributing to the legal profession down the road is why I do it. My schedule is packed and I'm always busy, but I do everything I can to make it happen and teach these young, talented and motivated students. In each of the classes I've taught, most of my students are already working in internships, doing clerkships or are working part-time and full-time jobs. I've also had single parents in my class and they work hard to get the best results, so that level of commitment is inspiring to see. I also stay in touch with some of my previous students and give them career advice, so it's great to be able to work with and help students like these.
What's the best piece of advice you give students?
I tell them that becoming a lawyer isn't just a job; it's a way of life. You have to find the better person in you when you become an attorney. There are professional responsibilities and ethics required and you have to become a model human being. I know the general and stereotypical view from society about lawyers isn't great, but overall the expectations of an attorney is that you need to become a model for anyone to look up to, whether that's through your professional behavior or even in social settings. You have to walk on the ethical, moral and legal side of life and that's not an easy commitment to make and keep.
What's your favorite part of your job so far?
Making a positive change. The reason I ended up in investments and business is that I like making deals and developing new things. I almost always try to practice in a way that there's no unhappy person or party and that's a good thing when you're practicing law. A lot of times, the adversarial nature of what happens in the legal realm isn't easy to bear. What I love about what I do is that I don't take away from anybody; I'm actually adding value to everyone's life.
Why are you passionate about helping your students achieve their goals?
As I've gone down my road, I realize I had a lot of great teachers who did the same thing for me. They committed their time, energy, focus and care to finding the best ways to help me. I've had mentors who helped teach me as well and I learned priceless lessons. I owe those people who helped me get here and I'm trying to pay that debt by helping others and playing the same role for my students.
Since you were born in Iran, was it difficult to come to the U.S. and go to law school?
I was 30 years old when I came here and it was like coming from another planet because I came from a civil law system to a common law system. Also, our legal system was influenced by Islamic and Sharia Law and then I came to a completely secular-based system, which is different. I had to essentially learn everything from scratch and I had to learn a lot of things in six months that people in law school here learn in three years. It was hard to catch up with the new language, new legal system and all the terminology.
What advice do you have for students who face similar adversities like yours?
For anybody who wants to be successful practicing law in America, find your passion and commit to it. There are a number of areas of practice that you can excel in and become a specialized attorney, which is very useful when it comes to legal practice.
Want to learn more about San Joaquin College of Law, sit in on a class or set up an appointment to discuss your law school future? Contact our Admissions Counselor,
This email address is being protected from spambots. You need JavaScript enabled to view it.

today!