---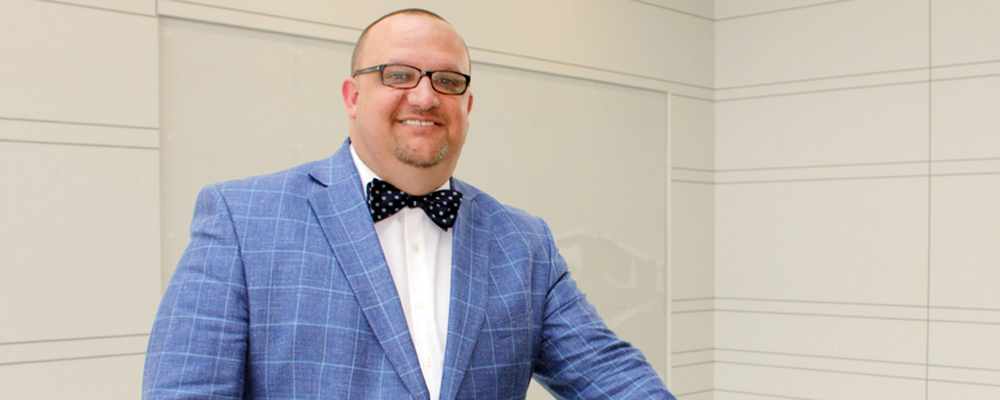 Meet SJCL Alumnus William Parry
Meet William Parry, a San Joaquin College of Law alumni and the only exclusively criminal defense lawyer in Kings County. As a Central Valley native, he chose to practice in his community and felt prepared to start his legal career after graduating from SJCL.
Learn more about William, how law school friendships helped him de-stress and why he believes a law school degree is worth every penny!
Tell us about yourself and the road that led you to SJCL.
I graduated in 1998 and I was born and raised in Lemoore, CA. I went to Fresno State and was accepted to several law schools around the state, but I intentionally went to San Joaquin College of Law because I knew I wanted to practice here in my home community. I also knew I wanted to start building my network while I was in law school. When I researched law school, I learned SJCL was a good school, had a good bar pass rate and more, but I knew I wanted to immediately start networking so I could get my foot in the door and SJCL served me extremely well.
What do you do now and how did SJCL help prepare you for your career?
I've been practicing for 19 years now, I'm a sole practitioner and I opened my own law firm, William Parry Law, in January of this year in Hanford and Kings County. I do criminal defense exclusively and that includes felonies, DUIs, misdemeanors, traffic, juvenile, etc. SJCL helped me a lot both academically and with the application part of the law because we had Criminal Law and Criminal Procedure courses and we had the Moot Court competitions, which were great because as a criminal defense lawyer, I'm in court every single day.
What made you decide to go into criminal defense?
I was clerking for several prestigious insurance defense firms while I was in school and at that time, that area of law was changing. A lot of insurance companies were going with in-house counsel and slashing the bills of law firms. I saw this happening and I was lucky enough to graduate, pass the bar exam and get a job with the Kapetan Brothers Law Firm doing criminal defense. I wanted to see if I liked it and I knew that it couldn't hurt to get all the court experience, at the very least. I was working in their Visalia office at the time and I loved it. I still love it and I wouldn't want to do anything else.
Did you have any trouble finding internships or a job after graduating and passing the bar?
Luckily, I didn't. Again, with all the networking I did, I made some great friends and met lots of people in the legal community. I was able to get clerking jobs while I was in school and upon passing the bar, I had a couple of job offers lined up, so I was very fortunate in that way.
How well did the SJCL curriculum help prepare you for your first job?
I think it prepared me very well. We had both the criminal classes, but the Criminal Procedure course was particularly helpful because I knew what an arraignment was, what a preliminary hearing was and what the motions were. From a procedural standpoint, it helped a great deal.
What advice do you have for maintaining a healthy work/school/life balance?
It definitely depends on the person going to school. For example, I was a work hard, play hard kind of guy. I was on Law Review and I got good grades, but sometimes I needed to shut the books and hang out with my friends because law school is a very intense experience. So I think everyone needs to find their own balance that they're comfortable with, but you do need outlets like family and friends, otherwise you'll go crazy. I leaned on and made some great lifelong friends who are now excellent local attorneys. It was great because they were going through the same experience I was and had the same schedule I did.
What advice do you have for future students who are considering SJCL?
From personal experience, I had options to go to other schools across California, but I chose SJCL because I knew I wanted to practice in the Central Valley because it was my home community. It was beneficial for me to go here and build my professional network while I was here, so if a student wants to work here in the valley, it would help you tremendously to attend SJCL because you'll be in the area that you want to eventually practice in. That's been a huge advantage for my career because I have a lot of friends who are judges and fellow practitioners, so it's a wonderful resource to have. But aside from the networking aspects, SJCL has an excellent faculty, a wonderful facility and it merits serious consideration on those terms alone.
How accessible was the faculty if you ever had questions or needed help?
They were extremely accessible. They have a literal open-door policy and it's great, I couldn't have asked for anything more. While I was there, professors like Jan Pearson and Larry Artenian couldn't have been more helpful. Jan would put on extra tutoring classes on Saturdays just to help out and things like that were essential and so helpful.
Is law school worth the investment of time and money?
Absolutely because you can do so much with a law degree and there are umpteen areas of law you can practice in. I love criminal defense, but if I didn't, I would have plenty of options to go and do something else. Or I don't even have to practice law; I could go and run a business instead. The legal acumen you acquire in law school is invaluable when running a business. It's not like being a civil engineer where you go to school and get the degree, but if you don't like it you're stuck. With a law degree, there are so many things you can do and it can help you in so many ways.
Was the size of SJCL helpful and beneficial?
I think it's very helpful because there's a lot of genuine camaraderie amongst the student body. People share notes and help each other in study groups and that's extremely beneficial. From my experience, the size of our student body and the support is great and it's one of the best things about SJCL
What advice do you have for preparing for and passing the bar?
Ignore your fantasy football team, apologize to your friends and family in advance because you're going to be a mole for a while, and just dig in and get it done. You have to dedicate yourself to it seven days a week. You can enjoy weekends for the rest of your life, but you just have to dig in and do the work and it will all be worth it in the end.
Want to learn more about San Joaquin College of Law, sit in on a class or set up an appointment to discuss your law school future? Contact our Admissions Counselor,
This email address is being protected from spambots. You need JavaScript enabled to view it.

today!