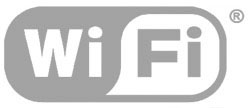 San Joaquin College of Law offers FREE wireless Internet access to students, staff, faculty, and alumni. Students can access the internet using their WiFi 802.11g/n device.
You assume all responsibility and risk by using this service.
SJCL is not responsible for any hardware or software issues that may arise with individual computing devices.
SJCL's wireless network is based on evolving wireless technology and is not inherently secure. We therefore cannot guarantee the privacy of your data and communications while using the wireless network.
How To Connect
Users must have an 802.11g or 802.11n compatible wireless card installed on their computer or other device.
First time you log into the SJCLAP wireless network you will have to use the password "sjclapap". You will only need to do this once. Wireless network cards should be set to default configuration, or DHCP-enabled. If your wireless card requires the name of an access point, type "SJCLAP", in upper case. Once you have connected, go to your web browser and read the SJCL Wireless agreement and at the bottom check "I agree..." and then click continue.
SJCL suggest users follow standard computing industry safety measures. These include implementation of anti-virus protection with current signature files, personal firewalls, updated security fixes and patches for the operating systems and web browsers, etc.