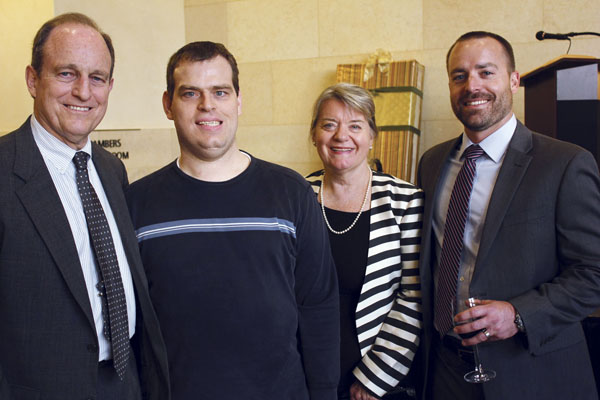 By Diane Skouti
The Honorable Richard Lee celebrated his thirty-year law career with colleagues, friends, family, and a few surprises at a retirement party in his honor at the Federal Courthouse. Among his many accomplishments, Judge Lee's career included sixteen years as an attorney, and fourteen years on the bench.
Having graduated from USC with a BS in Mechanical Engineering and a Master's in Business Administration, Judge Lee started out as a professional mechanical engineer. While attending San Joaquin College of Law, he worked at Kimble MacMichael & Upton, and went on to become an associate attorney, and then a partner. He was appointed by the Ninth Circuit Court of Appeals,replacing the Honorable Brett Dorian, as a US Bankruptcy Court judge in 2001.
During his career, Judge Lee served as president of the Central California Bankruptcy Association and Chairman of the CCBA's 1995 Institute Committee. He also served on the California State Bar Board of Legal Specialization's Personal and Small Business Bankruptcy Law Advisory Commission, Fresno County Small Claims Court, Judicial Arbitration Panel for Fresno County, Alternative Dispute Resolution panel for the Eastern District, Attorney/Clerks Advisory Committee for the Fresno Division, and the Advisory Board of San Joaquin College of Law's Agricultural Law Review.
A trio of musicians and tables of delectable hors d'oeuvres and wine provided the backdrop for an evening of reminiscence by some of Judge Lee's colleagues over the years. Tom Armstrong, a bankruptcy attorney who often appeared before Judge Lee, brought along a special guest. He told a story about an adversary proceeding he once filed for a client (Will) who was struggling desperately to support his family. After discharging Will's student loans, Judge Lee came into the courtroom to wish him well. In time, Will's situation did indeed improve. He had been promoted in his job and was now saving to purchase a home. Hidden among the audience at the party, Will appeared upon Tom's recounting of his story, and he thanked Judge Lee once again, and wished him well in retirement.
Other speakers included Retired Bankruptcy Judge Whitney Rimel. She spoke of how much she enjoyed working with Judge Lee, noting how he was always willing to listen when she needed to vent about an attorney or witness, given that judges can never vent in court.
Sharlene Roberts Caudle, Judge Lee's law clerk, said the Judge's serious nature inspired her to concoct many an April's Fool's joke.  Once, she added a group of madeup cases to his docket for the day. Another time she replaced some ever-present fake fruit in his office, with real apples. She proceeded to take a bite out of one during a staff conference, giving everyone a laugh.
As the first graduate of San Joaquin College of Law to be appointed to the federal bench, Judge Lee has shared each of his career milestones with SJCL Dean, Jan Pearson. She had offered her congratulations during his graduation from law school, his swearing in ceremony as a judge, and now at his retirement party. "You were here from the beginning of this," he told her with a hug.
Among the gifts presented to Judge Lee at the party were a topnotch banjo (he says he really wants to learn to play), and a book on how to play it.
Judge Lee expressed his gratitude to everyone he has worked with through the years, and said he now looks forward to sitting as a bankruptcy judge, by assignment.