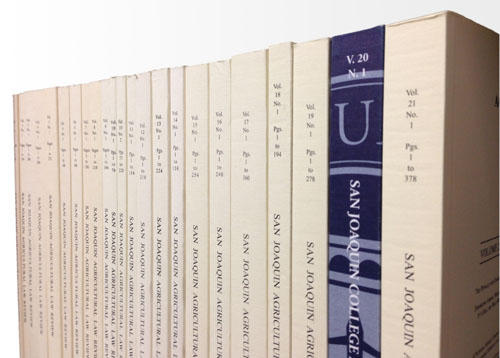 This synopsis of a recent student comment featured in the San Joaquin Agricultural Law Review is part of an ongoing series for Fresno County Bar Association's Bar Bulletin. The San Joaquin Agricultural Law Review, founded in 1991, is the oldest agricultural law review in the nation. It is published annually by students of San Joaquin College of Law, and presents student and scholar works on legal topics of current interest to those in agriculture, government, business and law. Its articles and comments have been cited by the United States District Court for the Eastern District of California, the United States District Court for the Middle District of Tennessee, the California Supreme Court, the Minnesota Supreme Court, the Court of Appeal for the Fifth District of California and the New Mexico Court of Appeals among others. The complete Comment is available online, along with the entire 24th Volume and the previous 23 Volumes at SJCL.edu/sjalr. Professional articles are always welcome. Contact Volume 25 SJALR Executive Editor Jeffrey Castleton at This email address is being protected from spambots. You need JavaScript enabled to view it. for more information.
 Central California Irrigation Districts: Are They the New Standard Oil?
 By Jeffrey C. Castleton
 Executive Editor
 24 San Joaquin Agric. L. Rev. 131 (2015)
 San Joaquin Agricultural Law Review
The United States of America was founded on freedom–freedom from tyrannical leaders who placed hardships and restraints on their "subjects." During the Revolutionary War in America, the people focused on getting out from under the heavy burden of the Royal Crown of England. They sought to think, worship, and pursue happiness according to each individual's will.
Fast-forward over 100 years from the time of the Revolution. The Industrial Revolution arrived, and business was booming. With this new prosperity came big business and monopolies, and the fear that these magnates would control the market and prevent competition spread across the nation. Senator John Sherman, author of the Sherman Antitrust Act, stood before Congress and declared, "If we will not endure a king as a political power, we should not endure a king over the production, transportation, and sale of any of the necessaries of life. If we would not submit to an emperor, we should not submit to an autocrat of trade . . ."
The Sherman Antitrust Act was passed by Congress and quickly signed into law as an effort to curb the emergence of American robber barons. At the turn of the century this new law found itself within the chambers of the United States Supreme Court. In 1909, the U.S. Department of Justice sued Standard Oil for sustaining a monopoly and restraining trade. It was accused of impeding trade through rebates, preferences, and other discriminatory practices that favored other large businesses. The Supreme Court's ruling broke the monopoly into thirty-four independent companies. Some descendants of the once-great Standard Oil include companies like ExxonMobil, Chevron, and Conoco.
Though the majority of antitrust cases target businesses, should entities that do not fit the mold of big business be regulated by antitrust laws? What about government organizations or other public services? What about irrigation and water districts? What happens when these entities begin to wield too much control over services and products vital to the public welfare? Can and should a California irrigation district suffer the same fate as Standard Oil when it prevents its farmers from participating in the efficient trade of water to those outside its district?
It is no secret that California is in a drought. This has left many farmers in the area looking to purchase water from outside their irrigation district in order to keep their farms alive. In relatively water-rich districts of the Central Valley, farmers are paying a mere thirty dollars per acre-foot of water, while others in more desolate districts are often economically forced to pay upwards of $2,000 per acre-foot. It makes sense, economically, for a farmer with excess water to sell his or her surplus water to farmers in drought-stricken areas. The farmer selling the water profits financially, while the farmer purchasing it obtains the necessary irrigation to continue business operations. The freedom of farmers to sell their water to other farmers contributes to a free market economy; however, many California irrigation districts restrain farmers from such inter-district trades.
This Comment will show that a strong case for a violation of federal antitrust laws can be made against certain irrigation districts in the California San Joaquin Valley, and that ensuring free trade of water between farmers will aid in resolving the Valley's water shortages. It will provide a history of California water rights, discuss current water conditions, and present how certain irrigation districts are restricting the trade of water throughout the Valley. It will analyze the California Water Code, theories of property law, the Sherman Antitrust Act, and antitrust case law to demonstrate how some irrigation districts are violating federal antitrust laws. It will also consider a potential immunity available to those irrigation districts, and recommend that antitrust laws be applied to monopolistic irrigation districts. It will finally recommend that water marketing policies be adopted to ensure the free trade of water between California farmers. Ultimately, the failure to reduce the power of irrigation districts to prohibit the trade of water will only enhance the challenges of an unyielding drought.