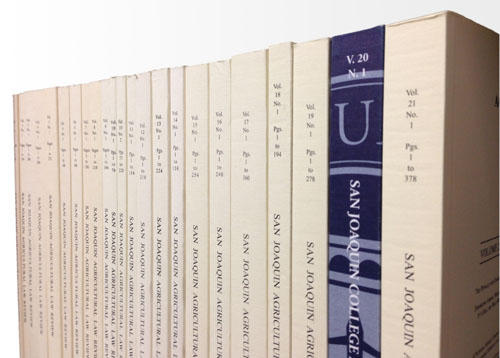 This synopsis of a recent student comment featured in the San Joaquin Agricultural Law Review is part of an ongoing series for Fresno County Bar Association's Bar Bulletin. The San Joaquin Agricultural Law Review, founded in 1991, is the oldest agricultural law review in the nation. It is published annually by students of San Joaquin College of Law, and presents student and scholar works on legal topics of current interest to those in agriculture, government, business and law. Its articles and comments have been cited by the United States District Court for the Eastern District of California, the United States District Court for the Middle District of Tennessee, the California Supreme Court, the Minnesota Supreme Court, the Court of Appeal for the Fifth District of California and the New Mexico Court of Appeals among others. The complete Comment is available online, along with the entire 24th Volume and the previous 23 Volumes at www.SJCL.edu/index.php/law-review. Professional articles are always welcome. Contact Volume 25 SJALR Executive Editor Jeffrey Castleton at This email address is being protected from spambots. You need JavaScript enabled to view it. for more information.
Good Intentions Fall Short:  Why the Southeast Asian Community is Precluded from Obtaining Farm Loans
By Mao Lee
Production Editor
24 San Joaquin Agric. L. Rev. 1 (2015)
San Joaquin Agricultural Law Review
It is increasingly common to see the words "pot growers" and "Southeast Asians" linked in the news today.  The cultivation of marijuana has become prevalent among Southeast Asian farmers in California.  There has been an increase in illegal marijuana farms across the San Joaquin Valley of California ("Central Valley") because of the changes in medical marijuana laws and the desperation of Southeast Asian farmers who have had a difficult time adapting their skills to the area.  This surge in illegal marijuana cultivation has diminished the Central Valley's agricultural reputation. 
The majority of Southeast Asian farmers are refugees who are uneducated and speak little to no English, negatively impacting their ability earn a living.  While a high percentage of Southeast Asians rely on government assistance, some are farmers operating small family farms, which cultivate su choy, ong choy, basil, cucumber, squash, and a variety of eggplants to sell at farmers markets.  The operation of small family farms has reduced poverty for some members of this community; however, the profits from selling produce often do not cover the cost of the farm leases or living expenses. Most of these small family farmers are dually employed, performing other types of work during the day and tending to their farms in the evening to support their farming business.  Even with both sources of income, the money earned is insufficient to make ends meet.  Despite the struggles that Southeast Asian farmers have faced, they have contributed to the Central Valley's economy by introducing specialty crops into the market. 
A shift occurred, however, with the legalization of medical marijuana.  Since qualified patients of medical marijuana are permitted to cultivate a certain amount of marijuana plants on their own land, Southeast Asian farmers took advantage of this opportunity; they turned to cultivating marijuana plants as cash crops. As a result, a large amount of marijuana plants are hidden among the rows of cherry tomatoes, Chinese bitter melon, su choy, kohlrabi, daikon, and Thai chili, to be sold as an illegal cash crop, and not for medicinal purposes.  Preventative measures, such as granting agricultural subsidies to Southeast Asian farmers, need to be employed as a method to halt this trend of illegal marijuana cultivation. Southeast Asian farmers are beneficial to the community and contribute to the economy by bringing a bountiful variety of plants into the Central Valley.
This Comment will show that agricultural subsidy laws need to be revised to provide much-needed assistance to Southeast Asian farmers. Modification of these laws would support the self-sufficient farm operations of Southeast Asians, while enhancing their economic standing and reducing their dependency on welfare and marijuana cultivation. This Comment will then explore the history of the Southeast Asians' journey to the United States and the problems they faced farming on American soil. Additionally, it will discuss the current federal farm subsidy programs. This Comment will analyze the obstacles for Southeast Asians when attempting to attain the benefits of farm subsidies. Lastly, it will advocate for changes to the Agricultural Act of 2014 in order to provide Southeast Asians an opportunity to obtain farm subsidies and ultimately deter them from resorting to marijuana cultivation and government assistance.