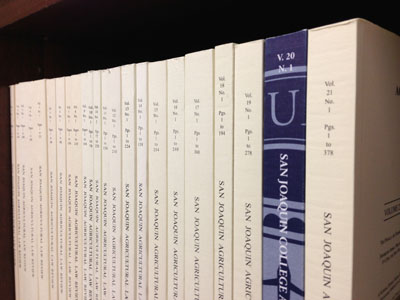 This synopsis of a recent student comment featured in the San Joaquin Agricultural Law Review is part of an ongoing series for the Fresno County Bar Association's Bar Bulletin.  The San Joaquin Agricultural Law Review, founded in 1991, is the oldest agricultural law review in the nation.  It is published annually by students of San Joaquin College of Law, and presents student and scholar works on legal topics of current interest to those in agriculture, government, business and law.  Its articles and comments have been cited by the United States District Court for the Eastern District of California, the United States District Court for the Middle District of Tennessee, the California Supreme Court, the Minnesota Supreme court, the Court of Appeal for the Fifth District of California and the New Mexico Court of Appeals among others.  The complete comment is available online, along with the entire 24th volume and the previous 23 volumes at www.sjcl.edu/sjalr.  Professional articles are always welcome. Contact Volume 25 SJALR Executive Editor Jeffrey Castleton at This email address is being protected from spambots. You need JavaScript enabled to view it. for more information.
Feeding the World Has Left Our Water Contaminated:
Will California's Human Right to Water Act Fix the Problem?
By Virginia Madrid-Salazar
Editor-in-Chief
24 San Joaquin Agric. L. Rev. 1 (2015)
San Joaquin Agricultural Law Review
Some of the most common pleasures in life are not easily realized for millions of Californians. Not every Californian can enjoy the simple satisfaction of opening the tap to drink a glass of water to quench their thirst. Little boys and girls running in from recess are simply unable to drink from their school drinking fountain because its water is contaminated. This is a stark reality for some California communities. Unfortunately, for them, the relief of a drink of water only comes after gallons of bottled water are purchased to avoid the unwanted health risks of consuming contaminated water.
Over twenty-one million Californians rely on contaminated water, and of those, over an estimated 4.1 million rely on 100 percent contaminated groundwater. The State of California does not require regulation of every domestic water source. Small service providers and private well owners are the two types of domestic water providers not regulated. The failure to regulate these water providers has left whole communities such as Seville, in Tulare County, to suffer the result of nitrate that permeates the groundwater feeding their wells. In this rural community, where most families are employed as farmworkers, the water in their homes and schools is contaminated. The children at the local school are warned not to drink from the fountains.
Seville is just one community suffering the reality of contaminated water with no recourse or hope for a sustained solution because small public water service providers and private wells are not protected by California's Safe Drinking Water Act or the California State Water Resource Board's ("State Water Resource Board") funding mechanisms. The State is only required to regulate public water systems, the smallest of which serve at least five service connections. Without financing, small public water service providers cannot maintain or properly regulate the water they serve to consumers. Overall the expensive nature of operating and maintaining water infrastructure makes it difficult to maintain water affordability at a rate that the primarily low-income households can afford.
California's Human Right to Water Act was introduced in hopes of solving the water contamination problem. After the bill passed through the Assembly and Senate in 2009, Governor Arnold Schwarzenegger vetoed it, rationalizing it would result in "costly and continuous litigation" that would take resources from drinking water improvements. In his veto letter, Governor Schwarzenegger said, "the most pressing barrier to achieving the goal is not desire, it is funding." The legislation resurfaced as AB 685 during the 2011-2012 Legislature and made its way to Governor Edmond G. Brown, Jr.'s desk. On September 25, 2012, Governor Brown signed AB 685, which statutorily recognized that "every human being has the right to safe, clean, affordable, and accessible water adequate for human consumption, cooking, and sanitary purposes." As part of the legislation, all relevant State agencies have an ongoing obligation to consider the human right to water in executing policy, budgetary, and programmatic duties.
This Comment will show that AB 685 does not create a duty by the State to provide clean and affordable water to all residents; therefore, there can be no claim against the State for its failure to provide contamination-free water. The Comment will discuss the State's regulatory and water management efforts and will explore California's history of contaminated water use and how it persists. There will be an analysis of both AB 685's abilities and inabilities to create a legal duty. This Comment will recommend that small water systems and private well owners be included in the State's regulatory framework, that legislation be amended to create a legal duty providing citizens the right to force the State to ensure water quality, and that a water public goods charge be implemented to meet the needs of the most vulnerable and to engage all Californians in the improvement of water quality. The Comment will conclude that if California does not implement changes similar to those recommended, too many Californians will continue to be left thirsty in fear of consuming contaminated water.