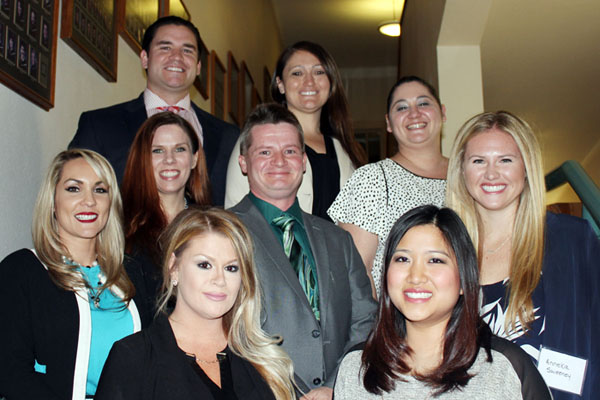 "If you pass the Bar, you're hired. If you don't pass the Bar, you're going to stay here and clerk until you do. And then you're hired."

Luckily, John Orman did not have to cash in on the second part of that statement from Laughlin, Falbo, Levy & Moresi; he passed the Bar on his first try. Also in the "you pass, you're hired" category is Sally Vecchiarelli, who was snapped up by Hammerschmidt Broughton Law.

Meanwhile, Sarah McNabb says her clerkship at the Tulare County Public Defender's Office will turn into a fulltime job as an attorney on December 14th.

Barpasser Corina Burchfield didn't have to wait long to be hired. Less than 45 minutes after receiving bar results on Friday, November 20th, her employer's Facebook page featured the following status:

"Sawl Law Group would like to congratulate Corina Burchfield for passing the California State Bar Exam (on her first try)!
It is a monumental achievement and we are all incredibly proud of her.

Corina started with Sawl Law Group as a volunteer file clerk when she was 15. After graduating from UC Davis, she returned to SLG as a legal assistant in 2005. Corina graduated law school from San Joaquin College of Law earlier this year and took the July bar exam. She received her well-deserved results this evening.

I am very excited to welcome Corina as Sawl Law Group's newest associate attorney on Monday."

Laughter, hugs, and congratulations flowed as freely as the champagne as San Joaquin College of Law's traditional Barpassers Reception raised a glass to eleven July Barpassers on November 23rd. Anneka Sweeney admitted it hadn't been all laughs; she says she cried for two solid minutes after receiving word she'd passed. Her husband was trying to console her, thinking the news was the opposite.

Barpasser William Klomhaus and his wife toasted the victory at the end of his five-year journey through law school. He says he loves his current job in Workers Comp with Zenith Insurance. When asked whether he had been hired as an Associate Attorney, he simply says "I will be!"

Barpasser Cinderela Co says she will take her time finding the perfect job. She is a Registered Nurse and Director of Nursing at her current job. Her dream job will combine the law and health care.