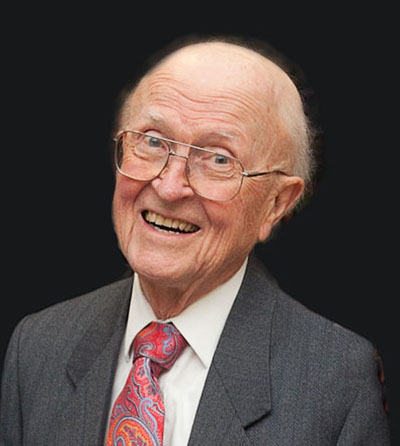 "John was never about the limelight, or the kudos, or the awards."  That's the assessment Oliver Wanger, a retired U.S. Federal Judge and Senior Partner at Wanger Jones Helsley, has of John Loomis, with whom he and Judge Dan Eymann founded San Joaquin College of Law in 1969.
Loomis, who served continuously on the Board of Trustees for the Law School up until a month before his departure, has quietly moved to Portland, Oregon to be close to his daughter Laurie, son-in-law Judge Randall Dunn and grandson Jon.  A reading room at SJCL will be named in his honor.
"He's a quiet and unassuming man," Wanger continues, "but as you look deeper, you see he's a man of great courage and integrity…someone who is uniquely committed to purpose."
Those in the Valley got a glimpse of that courage in 2011, when the Consul General of France formally conferred the title of Chevalier of the French Legion of Honor upon Loomis for his service during World War Two, when he was a Private First Class mortar gunner who was part of the campaign to liberate the City of Metz in the eastern region of France.  Being named a Chevalier is the highest honor bestowed by France. 
The Hon. Gary Austin was surprised to learn of Loomis' heroic past because, despite the many years they have known each other, Loomis never mentioned it.  Austin believes "It shows how humble he is, and what a great man he is."  Austin remembers Loomis as his Contracts professor during his first year at SJCL.  Even though every student was fully aware of Loomis' standing as one of the three founders of the Law School, Austin describes his classroom demeanor as "very kind, very embracing, reaching out to his students."
Retired Judge Robert Oliver, who has served on the SJCL Board with Loomis for the past decade, believes Loomis will be deeply missed.  "Dean Loomis has distinguished himself over many years as a lawyer of integrity, professionalism. His dedication in contributing to the vision of SJCL and its ongoing success cannot be understated."
Retired SJCL Professor Richard Cartier also reflected on Loomis' character, calling him "the epitome of a true gentlemen and American hero. It was a pleasure to see the French government recognize the value of his service. Closer to home, all of the SJCL family is indebted to him as a founder and supporter."
SJCL Dean Jan Pearson takes it one step farther, adding "there would not be a San Joaquin College of Law without John's efforts.  We wish him great happiness in his new adventures in Portland and hope he knows the depth of our affection and appreciation for all he has done.  He has been a wonderful mentor and inspiration for me.  I will miss him profoundly both personally and professionally."