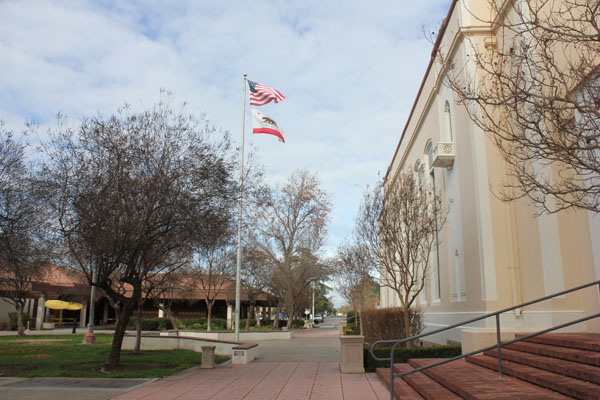 Only a sidewalk separates the current Clovis Senior Center (left) from San Joaquin College of Law (right).

SJCL to Acquire Senior Center for Law Library
The Clovis City Council has voted to implement a lease-purchase agreement with San Joaquin College of Law, enabling the Law School to eventually move its law library into the soon-to-be-vacated Clovis Senior Center.  Under the terms of the agreement, SJCL will lease the building for $90,000 per year for 20 years, with the option to buy it for one dollar at the end of that time.  Clovis hopes to use that money to help finance the new Senior Center slated to be built just a few blocks away, at Veterans Parkway and Third Street.
The new Senior Center is expected to be completed by the end of 2019.  The agreement gives the City 90 days after completion of the new Senior Center to vacate the old one.  SJCL believes the building will not require extensive renovation, and hopes to occupy the building as early as the start of classes in August 2020.
SJCL Dean Jan Pearson thinks that timeline may be a little ambitious, adding January of 2021 seems more realistic. She adds "A modern law library is not just a repository for books.  It is also a research center with computer access, individual and group study spaces, plus a classroom or two."  All in all, she describes the vote as "A great move forward!"
The January 8th vote would have been unanimous, but Bob Whalen recused himself because he sits on the SJCL Board of Trustees.  Councilperson Lynne Ashbeck enthusiastically moved to enter into the Agreement, saying the Law School was a gem of downtown Clovis. It was approved 4-0 with Whalen abstaining.
More than 1,500 students have attained a Juris Doctor from San Joaquin College of Law since its inception in 1969.  The Law school currently counts 47 bench officers among its alumni ranks.