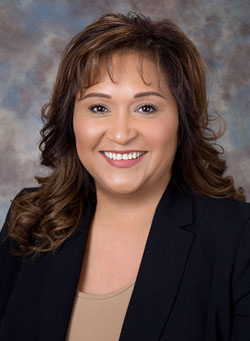 Monica R. Diaz saw her phone ring at lunchtime.  The long-time Chief in the Fresno County District Attorney's Office didn't recognize the number, but, for some reason, answered anyway.  Josh Groban, senior advisor to the governor in the Judicial Appointments Unit got right to the point, congratulating her as the newest member of the Fresno County Superior Court Bench.

"I was in shock," she says.  "I could not even speak.  He kept asking if I was still on the line and all I could say was 'I'm still here.'  It's something I've wanted my entire life."

 Groban told her she could not tell anyone except immediate family until after the Governor's official announcement, which would not come for another three days.  Judge Diaz says the 40-minute drive home to the family was the longest ever.  "I wanted to scream, just explode, and tell them the news, because they all knew how much I wanted this."

Following a huge family dinner and celebration, she says she still faced several more days of going to work without being able to share the news there.  By the second day, she says she just "shut the door" to her office" to avoid the temptation of blurting it out.  The hardest part was "feeling guilty" as she sat in meetings where plans were being made, because she knew she would be leaving.

Judge Diaz, a 1998 graduate of San Joaquin College of Law, has worked in the District Attorney's Office since 2000, prosecuting cases ranging from misdemeanors to domestic violence and homicides.  At the time of her appointment, she was Chief of the Misdemeanor Unit, leading a team of a dozen attorneys.

Previously, she spent a year as a deputy public defender for the Fresno County Public Defender's Office and was an associate at John A. Barker and Associates prior to that.

Judge Diaz becomes the 44th San Joaquin College of Law alumni to become a bench officer and the 18th to be appointed to the Fresno County Superior Court.

She fills the vacancy created by the elevation of Judge Kathleen A. Meehan to the Fifth District Court of Appeal.

Judge Diaz says she's "really excited for this new chapter," but otherwise, admits she is "still speechless."