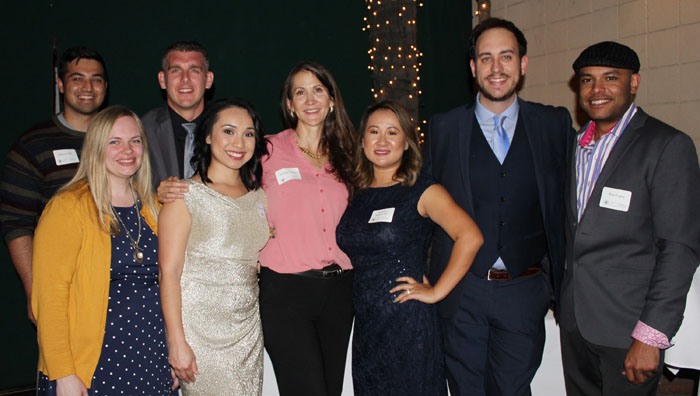 San Joaquin Agricultural Law Review Board Members gathered for a reception celebrating the release of Volume 26.  They included (L to R): Jaskaran Gill - SJALR Vol. 26 Executive Editor; Allison Ryan - SJALR Vol. 26 Editor-in-Chief; Jeremy Matthews - SJALR Vol. 26 Staff Member; Christina Cardenas-Gonzalez - SJALR Vol. 27 Notes and Comments Editor; Annemarie Monique Taylor - SJALR Vol. 27 Community Liaison Editor; Jennifer Nguyen-Bui - SJALR Vol. 27 Executive Editor; John Soares - SJALR Vol. 27 Production Editor; and Ryan Lopez - SJALR Vol. 27 Editor-in-Chief.
SJCL Law Review Teams with National Ag Law Review
John Soares - SJALR Vol. 27 Production Editor
The San Joaquin Agricultural Law Review is a legal periodical published by the Law Review students of San Joaquin College of Law. The Law Review provides an informative and objective national forum for analyzing legal issues affecting our nation's most vital industry – agriculture. Every year, the student Editorial Board Members of the SJALR gather, edit and publish articles written by legal scholars and practitioners and comments and case notes written by students of San Joaquin College of Law.

The Law Review has the distinction of being one of only two agricultural law reviews throughout the United States and has reached legal professionals from the San Joaquin Valley to the United States Supreme Court. Membership on a school's law review is often a distinction, indicating rank at or near the top of the class and/or success in a rigorous writing competition. 

Membership in the Law Review is highly coveted as its members possess qualities that are attractive to prospective employers. Many prominent practicing attorneys, judges and professors commenced their legal careers by writing a comment published in their school's Law Review. Recognition as a member of the Law Review is a distinction achieved by only a few percent of all graduating law students.  

The various writers, editors, and staff members of the Law Review celebrated the release of its twenty-sixth volume at the Lime Lite Restaurant on October 27th, where they previewed the contents of the current volume to family, friends, and colleagues. It was a wonderful night, honoring the substantial effort made by attorneys and students in writing, editing, and preparing their writings for publication. The Law Review has also been working hard behind the scenes to form a collaboration with the Arkansas-based National Agricultural Law Center, which is the nation's leading source of agricultural and food law research. Our respective institutions were pleased to announce that for the first time ever, the Center hired two of our SJALR editors to research and write for their website. This presents another exciting opportunity for the SJALR and our Law Review Editors and Staff to work under the SJALR and National Agricultural Law Center umbrellas.

The San Joaquin Agricultural Law Review has provided legal commentary on various agricultural issues for over twenty-five years. Its current projects, along with the new partnership with National Agricultural Law Center, aim to continue providing the agricultural community with legal commentary for another twenty-five years. Volume twenty-six is available to read now in print and at http://www.sjcl.edu/index.php/volumes. The Law Review looks forward to bringing Volume twenty-seven to publication sometime in 2018.