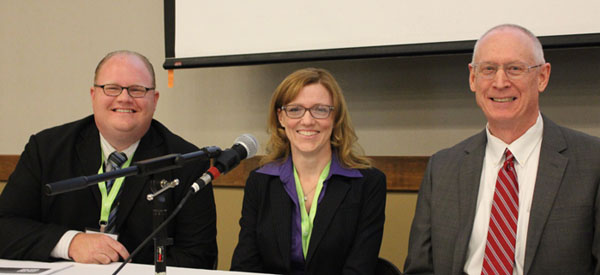 L to R: Gabriel Waddell, Esq. of Fear Waddell, Deanna K. Hazelton, Esq. of the Office of Michael Meyer - Chapter 13 Trustee, and the Hon. Fredrick E. Clement, United States Bankruptcy Judge, Eastern District of California, at the 31st Annual CCBA Institute in September.
The Central California Bankruptcy Association (CCBA) presented "Charting the Course," a two-day conference with 12 sessions and over 24 speakers and panelists discussing practical issues relating to bankruptcy and insolvency law.  Local attorneys, accountants, lenders and consultants filled the ballroom at the Clovis Veterans Memorial Building to discuss current issues in their field, as well as attain MCLE and CPE credits.
 
Attendees at this year's CCBA Institute gave the annual seminar high marks for being informative and interesting, and they said the food was pretty good too!
 
It takes a great deal of effort to put together the speakers and program for such a comprehensive seminar, so CCBA Institute 2018 is already in the works.  Anyone wishing to participate in the seminar and/or the annual golf tournament that precedes it should jot down the date: September 19-21, 2018 on your calendars now.