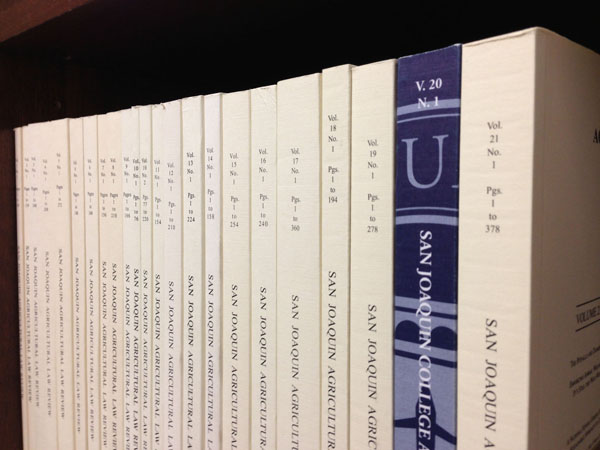 This synopsis of a recent student comment featured in the San Joaquin Agricultural Law Review is part of an ongoing series for Fresno County Bar Association's Bar Bulletin. The San Joaquin Agricultural Law Review, founded in 1991, is the oldest agricultural law review in the nation. It is published annually by students of San Joaquin College of Law, and presents student and scholar works on legal topics of current interest to those in agriculture, government, business and law. Its articles and comments have been cited by the United States District Court for the Eastern District of California, the United States District Court for the Middle District of Tennessee, the California Supreme Court, the Minnesota Supreme Court, the Court of Appeal for the Fifth District of California and the New Mexico Court of Appeals among others. The previous Volumes are available on line at www.SJCL.edu/index.php/law-review. Professional articles are always welcome. Contact Volume 27 SJALR Executive Editor Jennifer Nguyen-Bui at This email address is being protected from spambots. You need JavaScript enabled to view it. for more information.

Genetically Modified Organisms and School Lunches: Genetically Modified Foods Should Not Be Allowed In Our Nation's Schools 
By Christina M. Cardenas
Notes and Comments Editor
26 San Joaquin Agric. L. Rev. 1 (2017)
San Joaquin Agricultural Law Review
Summary

 The use of Genetically Modified Organisms (GMOs) have greatly increased since the 1990's and now there are major concerns of the future effect from these crops on the human body. This article discusses what GMOs consist of, where they are most used, which crops consist of GMO's, and the regulations in different countries. The United States is the largest producer of GMO products in the world and is increasing each year.

 This article discusses which United States agencies regulate the use of GMOs in food products, and a major concern among citizens within the county that believe more should be done to regulate such products. Many States in the United States have created bills to place labels on GMO products so that consumers know what they are purchasing and several of these States have failed to pass these types of bills known as "Right to Know" bills. There are a few states in which have passed laws that require labeling and other states that have failed to pass these bills but have counties within the state that have a voter approved ban of growing GMOs.

 There are several countries throughout the world that have banned growing GMOs in their country because they have noticed a risk from consuming these products. Many other countries, especially in the European Union, have strict regulations when growing GMO products included obtaining a permit to do so. The United States has always been a leader throughout the world but are behind in strictly regulating the use of GMOs because they are considered safe for use and consumption by the United States agencies.

 The article then discusses why GMO foods should be banned from school lunches and snacks. There has been several scientific research studies done on the effect that GMO foods could possibly have on the body and there is now a major concern that GMO products could produce a gradual carcinogenic effect on the human body due to the increased use of herbicides. Research shows that the increased use and exposure of herbicides on GMO crops has caused it to be labeled as a "probable carcinogenic" by International Agency of Research on Cancer and this is the cause of the increase ban of the crops in other countries.

America has done a lot to improve nutrition for children since the 2010 legislation "Healthy, Hunger-Free Kids Act" by providing healthier options for school lunches and snacks. A recommendation provided in the article incorporates using the Healthy, Hunger-Free Kids Act as a guide to provide a proposed legislative bill to incorporate banning the use of GMO foods within schools in the same manner as the 2010 legislation for more nutritious food. Since the United States has done little to regulate these crops and products, the United States legislature should consider this information and ban these products from school lunches and snacks by incorporating it like the Healthy, Hunger-Free Kids Act. The article touches different recommendations to consider and how important it is that these products be heavily regulated especially for the younger generation.