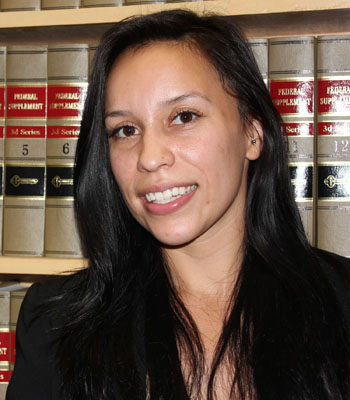 Lanae Oviedo has won the 2017 Hugh Goodwin Bar Scholarship to San Joaquin College of Law. 

She has already had more than a taste of law and public service.

Lanae spent the past two years serving as a law clerk for her mother's office; her mom, Serita Rios, is a criminal defense attorney and a graduate of SJCL.  Her grandfather, a Boalt Hall graduate and Orange County attorney, drove up to the Valley to take Lanae to her first day of classes at SJCL.

Last year, following her graduation from Fresno State with a B.S. in Criminology, Lanae established the Tribal Expungement Assistance Program for members of her tribe, the North Fork Rancheria of Mono Indians.  She gathers information from tribal members eligible for expungement, consults with volunteer attorneys, and prepares the documents and filing motions.

While she never lived on the reservation, she recalls visiting and seeing poverty, alcoholism, children without shoes, and so on.  She says it is like they are "in this hole and live this private life that no one knows about."  Her goal is both to serve as a role model and help people "who don't have influence."

The Hugh Goodwin Bar Association is named after the Honorable Hugh W. Goodwin, the first African American to hold the position of Judge in Fresno County.  The scholarship's criteria include the applicant's record of community service. 

To apply for the 2018 Goodwin Scholarship, go to http://www.sjcl.edu/index.php/financial-aid/scholarships/goodwin-scholarship