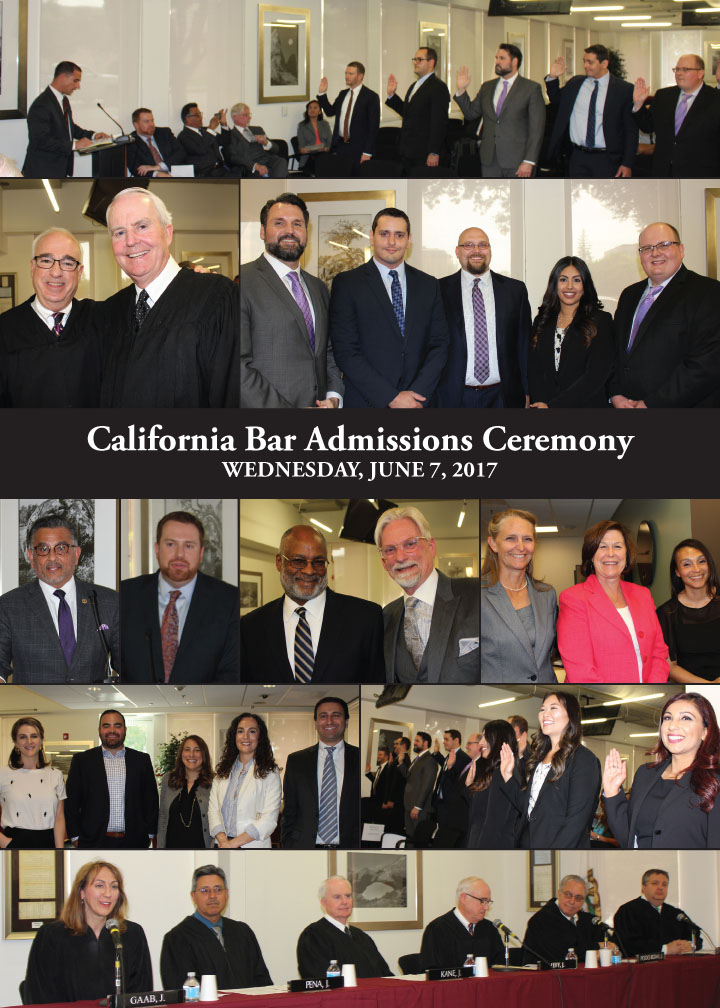 June Bar Admissions. 

In law, the real estate values of "location, location, location" could easier be replaced with "reputation, reputation, reputation."  That's the message the ten new admittees to the bar heard numerous ways at the Bar Admissions Ceremony on June 7th at the Sisk Courthouse.  Superior Court Presiding Judge Kimberly Gaab told the audience she knows that lawyers talk about the judges, but judges also talk about lawyers, shaping a reputation which precedes courtroom appearances.

State Bar Trustee Mark Broughton said the primary purpose of the State Bar is "protection of the people," adding "Reputation is the currency of the realm."  

FCBA President Adam Stiruup added "Your reputation is earned by your actions and how you treat others."

Other speakers also stressed the importance of balance, with Justice Charles Poochigian relating a story of his encounter with a well-established attorney in his earlier years of practice.  Poochigian tried to strike up a conversation about an event of the day, but was shut down when the older attorney told him "I only do law."

Magistrate Judge Stanley Boone advised the new attorneys to "be a part of the community" and "strive together to do better," but also added "and have a life."

Committee of Bar Examiners Representative David Torres noted the group before him was the last group to take the three-day bar, while Acting Presiding Justice Herbert Levy told them one always had to be sharp to pass the bar, but this group had to "be really, really sharp."  Levy also deviated from the program to note the imminent retirement of Justice Stephen Kane, whom he has known for about 40 years.  How did they meet?  They were both members of the Young Lawyers Association.

Fresno County Young Lawyers teamed up with Fresno County Women Lawyers to provide refreshments.

The FCBA welcomes the newest members of its bar, including:

Leila Alamri-Kassim
Daniel Brannick
Gurgeet Brar
Sean Fredin
Erik Hawkins
Ryan Kalashian
Daniel Martin
Chris Matthes
Kim Nakagawa
Nawar Shreiba