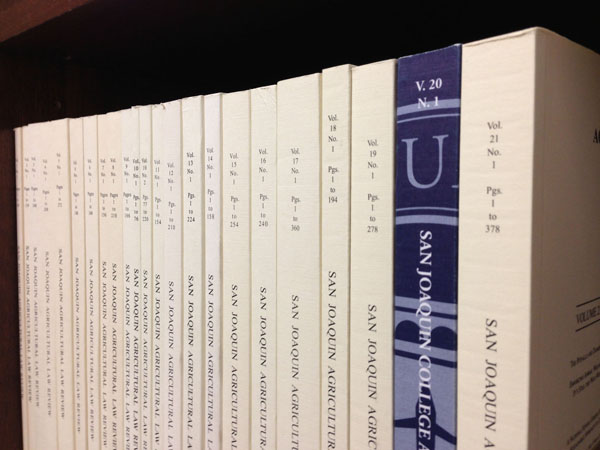 This synopsis of a recent student comment featured in the San Joaquin Agricultural Law Review is part of an ongoing series for Fresno County Bar Association's Bar Bulletin. The San Joaquin Agricultural Law Review, founded in 1991, is the oldest agricultural law review in the nation. It is published annually by students of San Joaquin College of Law, and presents student and scholar works on legal topics of current interest to those in agriculture, government, business and law. Its articles and comments have been cited by the United States District Court for the Eastern District of California, the United States District Court for the Middle District of Tennessee, the California Supreme Court, the Minnesota Supreme Court, the Court of Appeal for the Fifth District of California and the New Mexico Court of Appeals among others. The previous 25 Volumes are available on line at www.SJCL.edu/index.php/law-review. Professional articles are always welcome. Contact Volume 26 SJALR Executive Editor Jaskaran Gill at This email address is being protected from spambots. You need JavaScript enabled to view it. for more information.
THE NEW FRONTIER: HOW SHARING OF BIG DATA IN AGRICULTURE INTERFERES WITH THE PROTECTION OF FARMERS' OWNERSHIP RIGHTS OVER THEIR DATA
By John Soares
Production Editor
26 San Joaquin Agric. L. Rev. 1 (2017)
San Joaquin Agricultural Law Review
Agricultural technology advancements have moved many farmers into relationships with Agricultural Technology Providers (ATP) so that the farmers can remain productive. Typically, this relationship can be shown through the ATP's analysis of Ag Data produced by the farmers they contract with, called Ag Data Prescriptions. The help provided by ATPs through their data based prescriptions can improve yields per acre, help save input costs, and help the environment through lesser need for large amounts of pesticides and chemicals. However, there is a significant lack of clarity about the ownership rights of Ag Data. It is unclear whether farmers own their data to begin with or surrender ownership rights once the ATP receives the data for analysis.
This comment demonstrates that while farmers generally own their data, current law and standards within the agricultural industry fails to adequately define or protect their property rights in the data. The farmers' alleged ownership is undetermined due to the lack of legal recognition of ownership of data by the United States and the inherent anonymization by the ATP's aggregation of the data they receive, opening the farmer up to potential harm if that data can be freely used by an ATP.  Furthermore, privacy and property law, as they currently exist, could potentially include data within the guidelines set by their rules, but currently appear more likely to provide no protection over data.  Farmers have begun to fear that if their data fell into the wrong hands, it could be used against them through sale to competitors or undercutting neighbors for better land price deals.
This Comment will further demonstrate that farmers and legislators have a number of ways to protect ownership of Ag Data.  First, contractual actions, namely industry standardization or adding nondisclosure or licensing agreements, could give farmers enough protection over their data to ensure that any data shared will not be used against them.  Second, enacting legislative action similar to trade secret or HIPAA protection can provide farmers with sufficient protection for their Ag Data.  Finally, data consolidation could ensure that access to the data and how it can be used remains at a farmer's sole discretion.
We stand on the edge of a new frontier, faced with a new set of legal challenges arising from an ever-evolving technological future. As shown by these circumstances, failure to provide adequate protection of farmers' ownership rights over their Ag Data will allow for the occurrence of numerous potential abuses against which farmers will have very little protection.