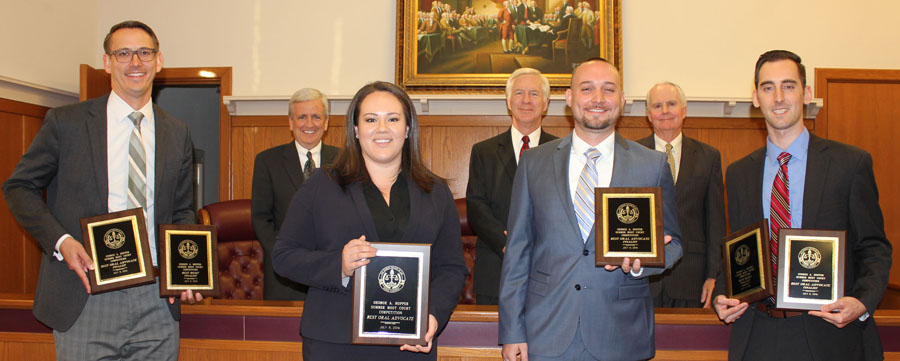 By Diane Skouti, SJCL Alumni Liaison
The summer session of San Joaquin College of Law's Hopper Moot Court began as usual with 29 nervous students pacing the second floor hallway.  In the end, Kayla Waters edged out fellow finalists Jeffrey Castleton, David Devencenzi, and Michael Kuchar for Best Oral Advocate. Best Brief winners were Janay Kinder and Christina Pina.  Best Brief Finalists included the teams of Richard Placido and Todd Rudder, and Jeffrey Castleton and David Devencenzi.
This summer's moot court instructors, Magistrate Judge Stanley Boone and Judge Jonathan Conklin said the students were exceptional. "You are all winners this year, and I'm not just saying that," Conklin told the group of finalists.
The judges for the final round this summer included Justice Stephen Kane, Justice Brad Hill, and Hon. Lawrence O'Neill.  All three praised the preparation skills and poise of the students.  They agreed with the judges from previous rounds in noting how well the students knew the law.
We wish to express our thanks to all of our volunteer judges, including Robert Abrams, Dede Agrava, Hon. Brian Arax, Shawna Braun, Gabriel Brickey, Mark Broughton, Henry Carbajal, Kenneth Carver, Hon. Erin Childs, Sherrie Flynn, Hon. David Gotleib, Justice Brad Hill, Hon. Antony Iishi, Philip Johnson, Kevin Kalajian, Justice Stephen Kane, Hon. James Kelly Jr., Hon. Leanne LeMon, Hon. Barbara McAuliffe, Laurence Meyer, James Mugridge, Hon. Lawrence O'Neill, Marianne Pansa, Professor Jeffrey Purvis, Kathleen Servatius, Hon. Mark Snauffer, Michael Sowards, Melody Walcott, Jody Winter, and Hon. Francine Zepeda.