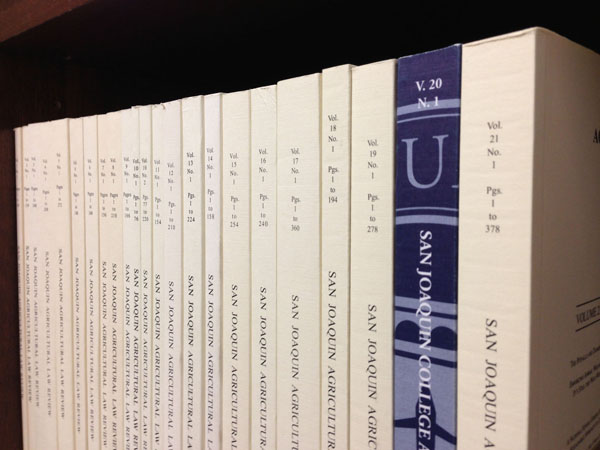 This synopsis of a recent student comment featured in the San Joaquin Agricultural Law Review is part of an ongoing series for Fresno County Bar Association's Bar Bulletin. The San Joaquin Agricultural Law Review, founded in 1991, is the oldest agricultural law review in the nation. It is published annually by students of San Joaquin College of Law, and presents student and scholar works on legal topics of current interest to those in agriculture, government, business and law. Its articles and comments have been cited by the United States District Court for the Eastern District of California, the United States District Court for the Middle District of Tennessee, the California Supreme Court, the Minnesota Supreme Court, the Court of Appeal for the Fifth District of California and the New Mexico Court of Appeals among others. The complete Comment will be available online, along with the entire 25th Volume, in early November and the previous 24 Volumes are currently available at www.SJCL.edu/index.php/law-review. Professional articles are always welcome. Contact Volume 26 SJALR Executive Editor Jaskaran Gill at This email address is being protected from spambots. You need JavaScript enabled to view it. for more information.

Organized Robbery: How Federal Marketing Orders Amount to Unconstitutional Takings Without Just Compensation
By: BreAnne Ruelas
Notes and Comments Editor
San Joaquin Agricultural Law Review
John Locke, one of America's most prominent philosophers of property rights, once expressed that fairness and justice for all citizens are the cornerstones of a modern democratic system. Once the government exceeds its legal authority or in any way violates the law, it ceases to be in authority. Instead, the government may be opposed as any other person might when invading the right of another. This concept was recently exemplified by a farmer who had a substantial amount of his crop taken by the government without just compensation.

Since the times of the Great Depression, the government has used Federal Marketing Orders to stabilize the agricultural market and create a positive flow for supply and demand of various commodities.  As a result of enforcing Federal Marketing Orders, farmers may be ordered to give up as much as half of the commodity they have produced after years of hard work and cultivation. 
In Horne v. Department of Agriculture (135 S.Ct. 2419, 192 L.Ed. 2d 388 (2015), one farmer took Locke's theory to heart and challenged a Federal Marketing Order. The United States Supreme Court held that the marketing order requiring a raisin farmer to give up almost half of his crop was unconstitutional because he was not being compensated. After a ten-year legal battle and two visits to the Supreme Court, Mr. Horne ultimately prevailed.

This Comment discusses the illegality of Federal Marketing Orders as a government program that harms consumers by raising the price of many crops while denying farmers the constitutional and economic freedom to sell perfectly legal produce. It explains the history of Federal Marketing Orders and their function, as well as the history and creation of the Raisin Administrative Committee in particular. This comment reviews the Horne decision, which found a Federal Marketing Order in violation of the Takings Clause of the Fifth Amendment of the United States Constitution, and compares that order to other, similar Federal Marketing Orders to which the Takings Clause should also be applied. This Comment recommends the reformation of other Federal Marketing Orders still in effect by assessing them under the new framework set forth by the Supreme Court, and concludes that the use of Federal Marketing Orders in the future must be altered to properly protect the Constitutional rights of agricultural growers. Unless volume regulation provisions of all marketing orders are assessed under the new standard set forth by the Supreme Court in Horne, growers everywhere will continue to be subjected to the organized robbery perpetuated by the government.