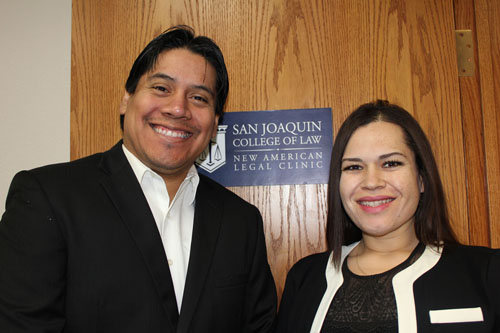 The New American Legal Clinic (NALC) at San Joaquin College of Law is pleased to announce the addition of two new staff members:  Josh Longoria and Aracely Mota.
Mota replaces Kenia Garcia as Administrative Assistant following Garcia's promotion to Client Services Coordinator.
Longoria, a 2014 graduate of SJCL who interned at the Clinic during his time as a law student, has been hired as Senior Client Services Coordinator.
NALC opened two years ago with a mission to provide legal immigrants with free information and counseling as they labor through the process to become citizens.  The clinic also handles DACA, VAWA, T-Visa, U-Visa, and an occasional asylum case, while training budding lawyers attending San Joaquin College of Law in Fresno in the area of immigration law.
The expansion of NALC is an attempt to reach more of those eligible for service.  A recent contract with the CA Department of Health and Human Services makes it possible for NALC to reach clients outside Fresno County, with an emphasis on rural areas.  The Law School is actively seeking to partner with individuals, agencies or organizations outside Fresno County who may be connected to or working with groups of immigrants.
Longoria says he is seeing an uptick in the number of clients hoping to become naturalized in time to vote, but he sees a lot more than that.
"One woman wanted to know how much she had to pay that day.  When I told her 'nothing,' she wanted to know how much she would have to pay at her next appointment.  When I told her it was all free, I could see the tears welling up in her eyes."
Longoria is not the only SJCL alumni with heart strings still tied to NALC.  Two of his former classmates are among the attorneys who have taken NALC clients to hearings pro bono: Ramon Nava is an Associate Attorney with Yarra, Kharazi & Clason, while Tanvir Joshi has opened the Joshi Law Firm, specializing in family and immigration law cases.