---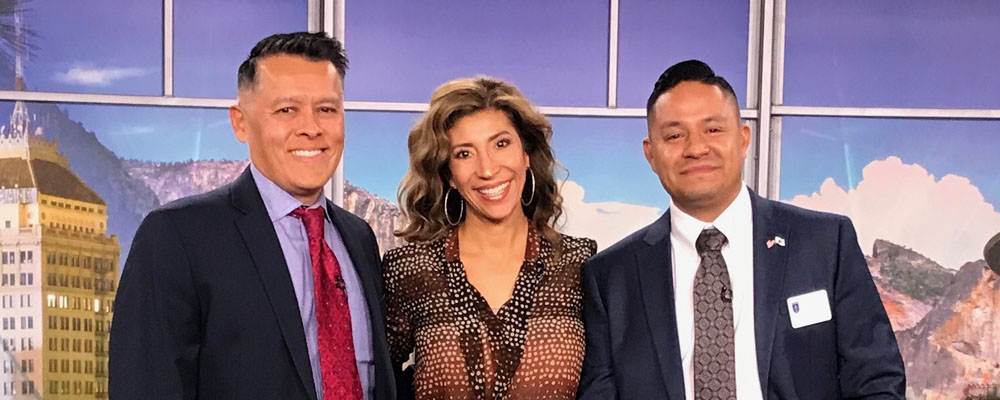 Meet SJCL Alumnus & Veteran Brian Alvarez
Meet Judge Brian Alvarez, SJCL alumni, Fresno County Superior Court Judge, and U.S. Air Force veteran at the upcoming Veterans to Law School Forum. He will share how his military career helped prepare him for his life in law.
Tell us about yourself and your career in the military.
I was born and raised in Fresno and before I went to college, I enlisted in the Air Force. When I came home from active duty, I enrolled at Fresno State, joined the California National Guard and met my wife during my undergrad. I was involved with the 144-fighter wing here in Fresno and after I graduated from college, we got activated for Operation Desert Storm. When I came back home in 1991, I enrolled at San Joaquin College of Law and while I was in law school, I worked at the Fresno County District Attorney's Office in their Bureau of Investigations. I was still a member of the Air National Guard in the reserve component, so I juggled law school, military duty and a full-time job. When I graduated in 1995, I took the bar in July of that year, found out I passed in November, got sworn in the week after and was immediately hired by the DA's Office as a brand new Deputy District Attorney. In 1998, while I was still with the National Guard, I went back for more training and became an Officer in the U.S. Air Force Reserve. In 2001, I was reactivated again after the September 11 attacks and I was sent to Washington D.C. When I came back, I was hired by the California Attorney General's Office and worked there for about seven years and became a Supervising Attorney. I was appointed to the bench by Arnold Schwarzenegger in 2009 and I've been with the Fresno County Superior Court ever since.
How did your military career help prepare you for law school?
Some of the main things it taught me were discipline, leadership skills, how to compartmentalize time and how to get along with others in a team effort. In the old days, each of the branches of service was very distinct in the way they operated. That changed in the early 90s to the point where there was integration of occupations in each branch that came together to work toward a common goal and it's like a joint operation now. That taught me to work with others, which is what I do now in court. It also helped me in law school because I had to make the best use of my time since I didn't have a lot of it. I worked full time, on some weekends I was on duty with the National Guard, I had a family and was studying. I really had to manage my time and do the most that I could with what I had and use my resources to their fullest potential.
What were some of your reasons for attending SJCL?
I was here working full time. I had a home and a brand new family here. So I wasn't able to go to any of the Bay Area schools that I originally thought I wanted to go to. SJCL ultimately ended up being the best choice for me because it allowed me to develop contacts in the legal community that I didn't have prior to law school. The San Joaquin Valley has a large number of practitioners that graduated from SJCL and when I started with the District Attorney's Office, the DA had also graduated from SJCL and was also an Air Force veteran.
What do you do now and how did SJCL help prepare you for your career?
I'm a judge with a criminal law assignment and I'm also one of the judges assigned to the appellate division here. The training I received at SJCL, especially from some of the instructors who were judges themselves, was instrumental and priceless to me. For example, Evidence was a core class that you had to master in order to become a trial lawyer and was taught by Jim Ardaiz, one of the best instructors who is now a retired justice from the Court of Appeals. It was teaching in the academic sense, but he was able to bring the lesson home by giving some real world personal experiences and that definitely got the point across. SJCL definitely taught me practical skills that I needed in order to make it out in the legal community.
How would you describe the culture at SJCL?
It was geared toward providing a solid legal education and I always felt that the instructors were there to assist students and were very approachable. They really wanted to see you succeed, especially if they saw that you had the aptitude and the drive to do so.
As a Veterans to Law School panelist, why is it so important to talk to other veterans about the benefits of attending law school?
I want to show anyone who's interested in going to law school that it's doable. If you put your mind to it, you can do anything you set out to do and there's a path to get there. If you're organized, driven and have been in the military successfully, you shouldn't have a problem succeeding in the law school program.
With what organizations do you work or volunteer that helps veterans?
Another judge and I were involved in starting the Fresno County Superior Courts Veterans Treatment Court, which deals with veterans who come back from a combat situation not entirely whole and who maybe have some serious mental health issues and go through legal problems as a result. We started the court as a collaborative effort between the District Attorney, the Defense Bar (including the Public Defender's Office), the Probation Office and the VA to provide treatment. I'm heavily involved in going out and speaking to veterans groups in the community to try and find veterans who can assist some of these defendant or justice-involved veterans in working through the court process and the VA process as mentors so they have someone to lean on with common experiences who can relate to them. It used to bother me immensely that we didn't have anything like that because the law provides the ability of a court to provide treatment to a veteran if it can be established that the veteran came back and as a result of their service, got in trouble because of mental health issues.
How important is integrity when it comes to being in the military and as a legal professional?
It's fundamental and it starts from the top all the way down. Anybody, including your military leaders, has to have integrity. That's what you would expect from the pillars in the legal community from the judges all the way down and it's what you would expect at the very least from a new practitioner. What I've told new attorneys coming in and what I was told as a brand new attorney was that it takes some time to build up your integrity in the legal community and everyone seems to know each other here. It might take awhile to make a name for yourself, but it takes just one improvident act to take away what you might have worked so hard to establish for years. So I tell the new attorneys to go out there, be a straight shooter, agree to disagree with people, don't cut corners, don't lie and that will take you a long way.
What advice do you have for veterans who are thinking about going to law school?
Go in knowing that you're going to work hard, that you'll find hurdles and maybe have some frustrations, especially if you're coming right out of active duty. But you can do it!
Want to attend the Veterans to Law School Forum? Click here to register for the FREE event or contact our Admissions Counselor, Francisco "Javier" Rosas today!