---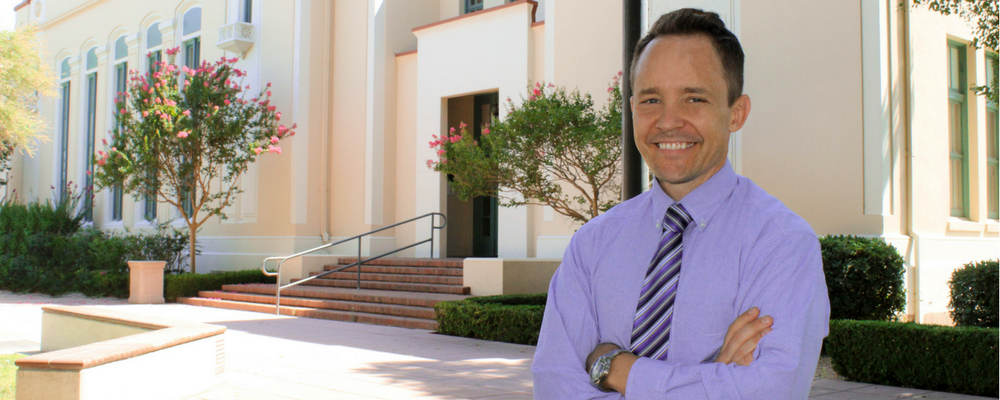 Meet SJCL Academic Dean Justin Atkinson
Meet Justin Atkinson, Academic Dean for San Joaquin College of Law (SJCL). Like many legal professionals in our community, he enjoys helping law students achieve their goals and realize how far a law degree can take them.
Learn more about Justin, how proud he is of his students to persevere through tough times and why he enjoys playing to the beat of his own drums in his spare time!
Tell us about the road that led you to SJCL and what your role is here.
I love to teach. Before law school, I taught Spanish and Latin American Literature at the University of Utah. I've always loved teaching and being around students, but at some point I had to decide between a J.D. or a Ph.D., so I took the J.D. route because my wife and I thought that a career as a lawyer would bring more stability in terms of job security and would allow me to practice anywhere. I returned to the University of Utah for my law degree and during my second year, a Fresno firm called McCormick Barstow LLP was interviewing on my campus. My wife actually grew up in Fresno and we knew we wanted to come back to the Fresno area. I worked for them over the summer, and was later hired as an attorney. It was a great firm with great people, but I always missed teaching and academics.
While I was studying for the bar exam, I studied here at SJCL. That was the first of many contacts with SJCL and its graduates. After a few years of practice, a full-time teaching position opened at the school, and I jumped at the chance. I've been here ever since. I started out teaching Remedies and later opened the New American Legal Clinic (NALC). Later, when our long-term Academic Dean retired, I applied for and was chosen for the academic dean position. My job at SJCL has been very rewarding and fulfilling.
What's the New American Legal Clinic (NALC)?
The valley has a huge immigrant population. At the same time, there are very few immigration lawyers. That combination has resulted in some troubling consequences. Statistics from the Department of Homeland Security show Fresno being seventh in the nation for immigration fraud, meaning that there are people taking advantage of immigrants by saying they are attorneys, promising to help them file forms, and then not doing things correctly. I saw the dire need for competent immigration services. Our Dean, Jan Pearson, had also sent out an email asking students what type of clinical experience they'd be interested in. A majority of the students said immigration law, so I started the NALC. My purpose was not only to help the community, but also train new immigration attorneys. We already have graduates from the program practicing immigration law in the area. I teamed up initially with the Mexican Consulate and they've been our partner ever since. They gave us office space and support. The clinic is almost five years old and has been very successful.
You said the students were interested in immigration law. Is SJCL very collaborative when it comes to hearing from students about what they want to learn?
Indeed, we are very collaborative. We're small enough that I'm able to personally ask students what type of legal experiences they'd like to have or types of electives they'd like to see. We chose to focus a clinic on immigration because the students had overwhelming demonstrated interest in that area. Unlike bigger law schools, students have direct access to professors and administrators, and we pride ourselves on being a school where we offer that type of access. I encourage people with questions about the school, their classes, school policies or anything else to come to us, the faculty and staff. I think that open communication is very helpful for students and helpful for us to improve as well.
What does a typical day look like for you?
There really isn't a dull moment. My workflow varies with the time of year. By design, much of my time is dedicated to helping and advising students. That generally takes up a large portion of my day. On top of that, I teach Contracts, put together statistics, chair and sit on various committees, work with outside community partners, help place students into externships and jobs, schedule and staff classes, prepare accreditation reports, and many other administrative duties. It really feels like I get here in the morning, start working, and all of a sudden it's time to go home to make dinner. Time definitely goes by quickly, but I like my job and that's a very important thing, given how many hours I spend at work. I tell students to find something they like to do because you will feel happy and satisfied at work.
What's been your favorite part of your job so far?
By far, my favorite part is teaching because I like the contact with the students. It never ceases to amaze me how much I still learn from teaching students. Students, especially SJCL students, impress me. Many SJCL students have families and full-time jobs while going through the program, but still get through the program successfully, study for the bar exam, pass, and become attorneys. I have to say, if I had everything on my plate that they have when I was in law school and studying for the bar, I don't know if I could've done it. I'm always so impressed with our students and what they go through to make this career happen.
What's the most rewarding part of your job?
Student progress, and the opportunity that I have to help, if just a little, in that progress. It's incredible to see how fast a student can progress right before your eyes and the incredible things they do after they graduate. I didn't know much about SJCL before I came to Fresno, but when I arrived, I started meeting SJCL grads and learning about the law school's mission. I fell in love with the student population that we serve, the fact that we're a nonprofit local law school, and how hard our students work. I feel very lucky to be a part of the SJCL family.
What are some of your hobbies when you're not working?
I have four children, so my wife and I are always playing and hanging out with them. We also have a new puppy that takes up a lot of my time as well. I love to read, travel, and workout. Also, I'm a drummer in a band. A few people from my neighborhood and I figured out one day that we had all played different instruments at different times in our lives, so we try to get together and play once a week. We're a cover band and call ourselves "The Band" because we've tried a few different names before, but nothing stuck. We cover music from the 50s all the way to current songs, including blues, swing, rock, alternative, and much more.
What advice would you give to someone who wants to go to law school?
They should come to one of our law school forums, talk to us and meet some of our students and staff. They can get in touch with our Admissions Director and come sit in on a class to see what it's like. It's also important to talk to people who know about what it takes to go through law school. Chat with attorneys about what they do, what advice they may have and get all the information you possibly can. If you don't know any attorneys, reach out to me and I'll set you up with some to talk to.
Why are you so passionate about helping people achieve their law school goals?
None of us are where we are because we've done everything by ourselves. Whether we recognize it or not, we've all had help along the way, including me. I feel like I'm paying it forward when I help our students. It's selfish too in a sense because I get so much benefit from helping: the more I serve, the happier I am. In my experience, the key to happiness is service and that's one thing I hope to pass along to law school students.
What's something that's unique and makes SJCL stand out from other law schools?
We are a small community, inside and out. Inside, you have direct access to me as a professor and administrator. If you have a question about anything, you can walk right in and talk to any professor or staff member. You can communicate with any of us directly instead of being lost in a class of 100 people, which can feel pretty overwhelming.
On the outside, we're the only accredited law school school in the Fresno/Clovis area, which means we have a large network of connections. Our students don't compete for judicial clerkships like students in Los Angeles or San Francisco do because we're the only game in town. So if you come to SJCL and do well, you're going to have a lot of good opportunities available because you're not competing with students from five or six other schools.
We also worry about tuition costs for students because we want to make law school as affordable as possible. We're an opportunity school, with the goal of giving students a chance to become a lawyer. Those that work hard and dedicate themselves will be successful.
Want to learn more about San Joaquin College of Law, sit in on a class or set up an appointment to discuss your law school future? Contact our Admissions Counselor, Francisco "Javier" Rosas at This email address is being protected from spambots. You need JavaScript enabled to view it. today!