---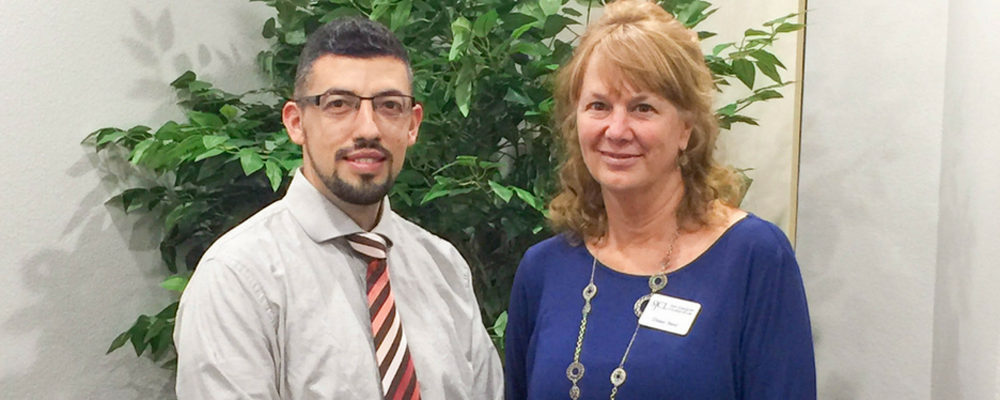 Meet SJCL Alumnus Henry Campa
Meet Henry Campa (Law '11), Founder of the California Justice League and a San Joaquin College of Law alumni. As a passionate public defender, his upbringing has allowed him to connect with his clients on a deeper level and successfully represent them in court.
Learn more about Henry, why he approached law school as a personal challenge and why transferring to SJCL from another law school was one of the best decisions he's ever made.
Tell us about your background and the road that led you to SJCL.
When I was 25 and living in LA, I had a conversation with two friends who were first-year law students and picked their brains about their experiences. One of them mentioned that she was quitting law school because it was too hard for her and the other one didn't have much to say about it. I took what they were telling me as more of a personal challenge to see if it was something I could do. Going to law school wasn't really something I ever imagined myself doing, but after that conversation I knew I wanted to experience law school for myself. So I started at Florida Coastal School of Law, which is a ABA-accredited school in Jacksonville, FL. The tuition was very high there, so I decided to transfer to SJCL in 2009 and I knew from the beginning that it was the right choice for me. The biggest factor was the cost because tuition was so much lower than the school I transferred from. A big difference I noticed right away coming from a big ABA school to a smaller school like SJCL was the smaller classroom sizes. Right away, I was able to get to know the professors and they knew me by name, which was great and was definitely not going to happen at my previous school. Also, the energy of the students around me was noticeably different. At Florida Coastal, everything felt like a competition and the students were against each other because they were trying to stay ahead of the curve and be at the top of the class. That wasn't the case at SJCL: instead, everyone was actually helping each other out. Because of the curve structure at bigger schools, there will always be people on the bottom and there can only be a few at the top, that's just how it goes. At SJCL, if everyone wanted to be an A student, they have every opportunity to be an A student.
What do you do now and how did SJCL help prepare you for your career?
I currently run my own solo practice, California Justice League, and I only practice criminal defense. A lot of my colleagues who also practice criminal defense are SJCL grads as well. I started in this industry during law school as a clerk and almost every attorney that was working for the firm at the time was an SJCL graduate, so I knew immediately that the school prepared the attorneys well and there are so many lawyers and judges who've graduated from there. The legal community is very aware that SJCL is a great school that produces great attorneys. They know that the school is accredited and they've built a respected reputation in the legal community and the lawyers who graduate from there definitely benefit from it.
Being an SJCL grad also helps you in the courtroom, especially in my case when I deal with prosecutors who are also SJCL grads. I probably saw them in class when I was a student and I was friends with them, so when I graduated and started working, it's like I was working with my friends. That really gave me a lot of comfort once I started in my own practice.
Did you have trouble finding internships during school or a job after graduation?
No, I actually picked up an internship pretty quickly which turned into a legal clerk job. I was a clerk all the way through law school and once I graduated, I started working with one of the attorneys that I worked for while I was a student, so I was able to take on my own cases. Shortly thereafter, I got hired at the public defender's office in Fresno and a lot of the attorneys there were also SJCL alumni. So it was really an easy transition to the workforce, at least in the criminal law field that I work in.
Did the SJCL curriculum prepare you for your first job after graduation?
Again, Florida Coastal was based on a curve system, so everyone could of been passing their classes but they could also be below the learning standards for the bar exam. On the curve, half of the class will always get the top grades, even though it may not necessarily be true to the bar standards once you're actually taking the exam. The nice thing about SJCL is there is no curve system and their standard is based on the bar exam. If you're passing a class at SJCL and you get questions on the bar exam pertaining to that class, chances are you'll do well on those questions. So it's nice to know that the standards are based on what you're going to be tested on down the road once school is over. I fully believe if you can get through the SJCL program, you can pass the bar and start practicing law without any issues and I think the school designed the program that way on purpose. They don't want to have you go through law school and not have you succeed in your career.
What advice do you have for maintaining a healthy work, school and life balance?
The first year is always the toughest, especially when you're working and going to school. I had a lot of family support and they really helped me get through that first year and let me figure out how law school worked. After that, you get into a rhythm where you're able to take on a job or an internship and maintain your study schedule. Once you get through that first year, the second year and on isn't that bad. My advice would be to give it your 100% effort in the beginning because it really is like learning a new language. After that initial semester or school year, pick up hobbies or side jobs or something that will help prepare you for the real world after you graduate.
What advice do you have for future students who are considering SJCL?
Be prepared to be challenged and really find your weaknesses because that's what's going to help you find your strengths in the end. You'll find out that law school is nothing like anything you've ever done before. Going into it with expectations is probably not the best thing to do. Have an open mind and be prepared to dedicate most of your time and effort to getting through that first year because it's like you're travelling to a new country. You have to learn the culture, the language and everything you didn't know before, but then it gets easier and the ride gets a lot more enjoyable. Law school is made up of people who did well in college or who have always been career-minded. What's tough is that most of those people have never really felt challenged before, so don't go into it with a chip on your shoulder, but instead be humble. Be prepared to have your confidence rocked a little bit, but in a good way because you need to be a little bit afraid in order to push yourself to do well.
Is law school worth the investment of time and money?
Do everything you can to choose the money wisely. It's always good to work while you're in law school to help pay for it instead of just taking out loans. As long as you're making smart financial decisions with your money, I don't think it will be an issue. Law school is expensive, but as long as it's something that you know is your calling, then of course it's definitely worth the investment. Apply for scholarships and any type of financial aid that you can get that can assist you with paying for law school.
What does your job as a public defender entail?
I grew up in a rough neighborhood and most of the people I grew up with had bad encounters with law enforcement. I was one of the lucky ones because I was able to really focus on school and find my way out of a bad neighborhood without getting into trouble. So with my background, I'm able to really find a connection with the defendants (my clients) in whatever type of case it is. I always feel like I can relate to them because I know what it was like to grow up in a rough environment and for me, a public defender is the epitome of someone who cares about the underprivileged. It's not that these defendants are horrible monsters, they just grew up with very little to no resources and had to make choices that probably weren't the best and once you're in the criminal system, it's very hard to get out of it. So my purpose for joining the public defender's office was to get in there and get to know the defendants and find out why they may have made those mistakes in their lives or why they're in the system and figure out how to help them get back on their feet through rehabilitation or job placement or something. For me, it's not about getting them to and through the court hearing, it's about helping them get their life back together outside of court.
If you want to learn more about Henry and criminal defense law, reach out to him via email at This email address is being protected from spambots. You need JavaScript enabled to view it..
If you'd like more information about attending law school, contact our Admissions Counselor, Javier Rosas, at This email address is being protected from spambots. You need JavaScript enabled to view it. or attend one of our upcoming Law Forums to learn more!