---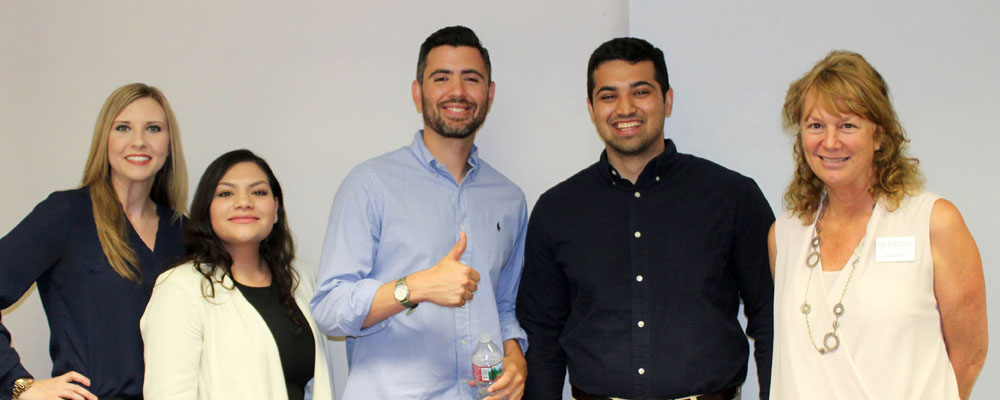 The Law School Experience in the Words of our Students
Going to law school is a journey unlike any other. From learning new ways of thinking to forming lifelong friendships, law school offers a rewarding experience you won't get anywhere else.
But don't take our word for it. Four of our current students recently spoke at our Law School 101 Forum and gave their best advice for success during law school and valuable insight on what you can expect.
Jas Gill – 2017 Graduate
As a biology major in college, recent SJCL graduate and honored valedictorian Jaskaran Gill didn't know his future would include law school. After he graduated from UCLA, he started working as an EMT and one of his calls led him to a retired attorney who introduced Gill to the world of law.
"After that encounter, I came to one of these SJCL forums and started thinking this was a real possibility for me," Gill said. "As an attorney, you really do have the power to fight for those who can't defend themselves."
Coming from a large school like UCLA, Gill said he enjoyed the small school vibe at SJCL because every professor knew his name.
"One of the things I didn't like about my undergrad is that I always found myself in a class with a hundred other students and any time you wanted to get help from your professor, you'd go to their office hours and there would be 20 other students in line," Gill said. "Here, professors do a really good job of giving you individualized attention if you need help."
Gill said law school was the toughest thing he's ever gone through, but taking the time to prepare for his classes was key.
"Time management and scheduling is one of the most important things to be successful in law school," Gill said. "If you stick to a calendar and a schedule, it's one of the most beneficial things you can do for yourself."
Jason Crockford – Current Student
As a former Clovis Unified School District teacher, Jason discovered he wasn't passionate about his career. But once he entered the world of law, his way of thinking was forever changed.
"I was the guy in undergrad that just got through it," Crockford said. "Here, you learn ways of thinking and doing things and later on when you look back on it, you appreciate it because it's a true education."
It's no secret that law school is one of the toughest things you will do in your life, but it's also one of the most rewarding. Crockford said it's crucial to discover your best studying methods early on.
"People learn differently, so you have to figure out what works for you and I learned early that I have to read every single case," Crockford said. "The reading isn't light reading and there's a specific terminology and vocabulary and it honestly took me awhile to get used to it."
One common myth is that it's difficult to find a job after you graduate from law school and pass the bar, but that couldn't be further from the truth for our students. Crockford is currently working for a local criminal defense firm in Fresno and said he didn't have an issue finding a job.
"When I started, I didn't know anyone in the industry and I didn't even know what the law was," Crockford said. "Now all of my friends and I have jobs, so the opportunities are there and that's where you get your bread and butter because of internships and jobs."
Maria Valencia – Current Student
A Fresno State graduate with a Business Administration degree, Maria Valencia knew from her experiences at a young age that she wanted to help people. Today, she can't see herself doing anything else.
"I grew up in foster care and went through the system, so that experience gave me a hunger for knowledge because knowledge is power," Valencia said. "I love helping people and with a law degree, I can help them in so many different ways."
While there will be tough times during the semesters, Valencia said the key is to remember why you chose a career in law in the first place.
"It's important to not lose focus," Valencia said. "If you have a passion for law and you know this is what you want to do, then you have to remember that every time you want to give up and quit."
Rachel Baskin – Current Student
From career opportunities to high earning potential, there are plenty of reasons people choose to attend law school. Rachel Baskin's reason was more personal.
As a single mom, Baskin knows better than anybody how tough it can be to balance law school with your personal life.
"I work during the day, so during lunch breaks I'm briefing cases, before class I'm briefing cases and on the weekends I'm briefing cases," Baskin said. "It's very possible to do it all, you just have to have the determination to do it and nothing will stop you."
Baskin is currently working as a paralegal for a personal injury attorney and said she's gaining valuable experience both in the classroom and through her job.
"I really feel like it's preparing me for my future and there's a lot of networking opportunities and the school has many opportunities for internships, scholarships and jobs," Baskin said. "Coming here was more economically feasible and beneficial because you're in the community and there are plenty of opportunities for success."
If you're interested in attending law school and want to know what to expect, attend our next Law School 101 Forum on Tuesday, June 27 from 7 to 9p to hear from more of our students!