---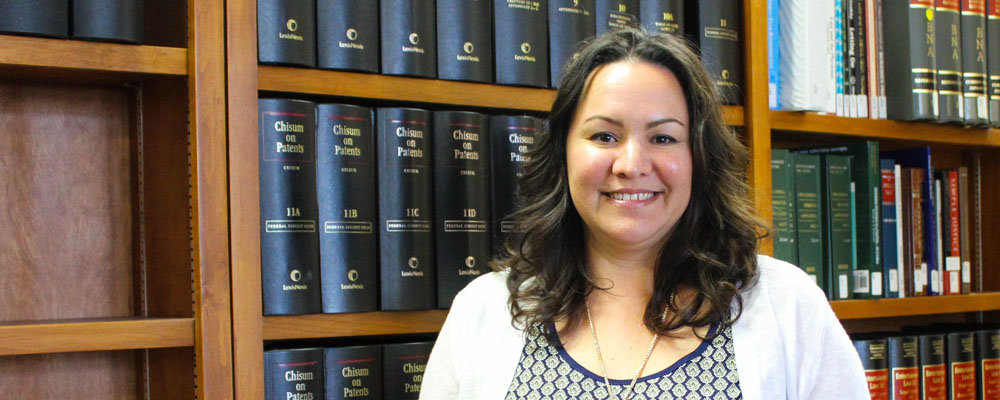 Meet Alumna Alicia Diaz Wrest, Law Library Director
Like many law school students, Alicia worked hard and followed her dream of becoming a lawyer and helping her community.
Learn more about Alicia, how SJCL helped prepare her for life after the bar exam and why she encourages people to take the first step towards enrolling in law school.
Tell us about the road that led you to SJCL.
I was in sales and marketing for about ten years or so before I went to law school. I was working in an area that was on the outskirts of the housing market, but I wasn't a real estate agent or anything. When the real estate market broke down, I decided to apply for law school because it was something I'd always thought about doing. I knew SJCL was a great school, I didn't have any intentions of leaving the Central Valley and I wanted to provide services to my community, so that's why I decided to enroll.
What influenced your decision to attend law school?
I think my experience was pretty common for people who end up in law school. It was a long term goal of mine, but I never had any way of realizing that goal without SJCL. My parents don't have college degrees, they were not literate in the ways of higher education, and they didn't know how to best support myself or my siblings in getting a college education, let alone an advanced degree. After I graduated from high school I went to community college, but I didn't have a vision of how that was going to progress or how that whole world works. I just did my best to make my way through knowing all along that becoming an attorney was a dream of mine, but not really knowing how to get from where I was to that goal. So, I went to school and worked for a long time, but when the economy forced me out of the job I was in, I knew I had to look at finishing my education, following through with my goal and making it happen. SJCL provided the best opportunity for me to do that because it gave me a direct path for me to achieve it.
How did SJCL help prepare you for your career?
There's a few different ways, but the first is the faculty that serves the school because they're phenomenal. I had judges, practitioners and scholars as teachers, so the combination of all of those different viewpoints makes for a very rich educational experience. On top of that, there's an emphasis in obtaining internships, externships and working experience. Because of that and the reputation of the school, there are a lot of opportunities available and I was able to get an internship right after my first year of law school. That gave me a lot of hands-on, real world experience that helped solidify my understanding of the material I was learning in the classroom. It brought practical application to the theoretical information I was learning and that's how I think SJCL best prepares their students for practice. The local legal community is also very invested in the success of the school, so that makes a big difference.
Did the SJCL curriculum prepare you for your first job after graduation?
Absolutely. Because you're required to cover so many different areas within the law, you walk away with a very well-rounded knowledge of what you need to know. By the time you graduate, you have a fluency in the language of law that will put you in a great position to be able to find the answers you need as you enter the legal workforce.
Is law school worth the investment of time and money?
Hands down, no doubt it was worth every single penny and worth all of the late nights and hard work. It was so life-changing and has afforded me so many opportunities. Without a doubt, if I could go back in time I would make that same decision in a heartbeat.
How did you balance your time during school?
I worked part-time while I went to school, so I was fortunate that I didn't have to work full time. I had an exceptionally devoted and loving family and husband. It wasn't very difficult for me because that was my primary focus at the time. What truly amazed me was when I would see people around me who had full time jobs and were raising families. They blew me away because I was always surrounded by all of these intelligent and hard-working people. I had my daughter during my last year of law school and people thought it was a big deal, but it wasn't. Infants sleep and eat, that's all they do. People with toddlers and young children that are going to law school blow me away because almost all of them also work full time. But the bottom line is, they get through it and they're successful.
What advice do you have for preparing for and passing the bar?
It's not a joke, you definitely have to work hard and dedicate yourself for that entire summer. You have to be absolutely accountable to yourself and that doesn't mean you just follow along and do everything you're told to do. That means you ask yourself "Am I doing this the way that it needs to be done and what can I do to make sure that this is my most exceptional work?" You do everything that you think you can and then you do some more. It's a tough summer but if you fully dedicate yourself to studying, then you can walk into the exam knowing you did everything you could to prepare.
What was your experience like getting a job after you graduated and passed the bar?
I had an experience that I think is common for a lot of our grads. As soon as I finished my first year, I started working for the Dias Law Firm, Inc. (no relation) as an intern and I just continued on with that firm during school. Then I took time off to study for the bar with the full understanding that upon taking the exam, I would return to the firm as a law clerk. I also knew if I received positive bar results, then I had a job there as an attorney. But the firm assured me if I received bad news, they still had a place for me. Luckily, I passed the first time and I was able to start working as an attorney in December of 2010.
What is something that's unique about SJCL or makes it stand out from other law schools?
The comradery of the students because I felt very supported and I had a great group of people that worked together towards the same goal. It never felt like people were trying to keep each other down for their own advancement. Everybody worked hard together and everybody was willing to help each other. The other thing I thought was unique about SJCL was the attention from the faculty because you know they're available to you. You can ask them questions, get feedback and they don't have limited office hours. They're there all the time ready to answer your questions and want to help you succeed in any way they can.
How much are you in touch with your alumni network?
I'm a little biased because I'm the Treasurer of the Alumni Association. I had some very close friends in law school and we still try to get together once or twice a year as a group and just catch up, give each other advice and talk about each other's achievements. I know I can always depend on and call an SJCL grad for help.
What advice do you have for future students who are considering SJCL?
Just do it. The three of four years that it takes to go to school will go by whether you apply or not. You might as well get started and stop thinking about it. Take the steps and do it because that time is going to pass you by whether you're pursuing your dream or not. It's better to have that time go by and have an achievement at the end of it than to still be talking about what you think you want to do.