---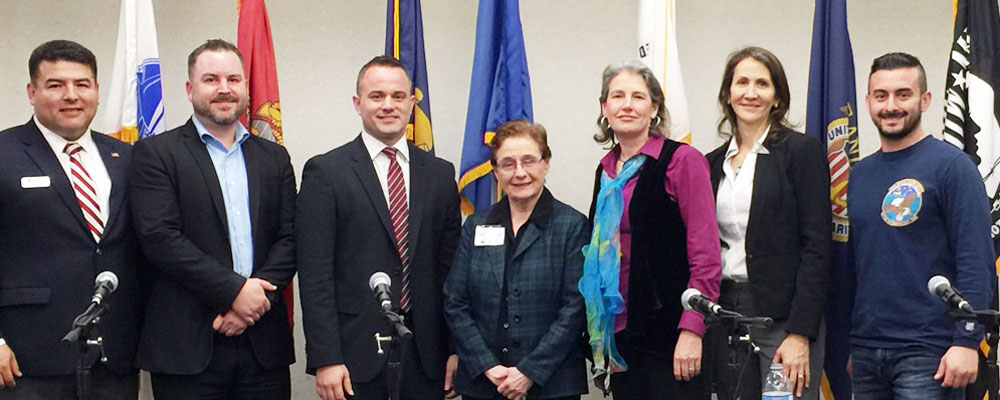 Military Service is a Great Start for a Law Career
Veterans, attorneys, and current law students came together to discuss the compatibility of military experience and law school at the recent Veterans to Law School Forum presented by the Clovis Veterans Memorial District and San Joaquin College of Law.
Five panelists shared their fascinating journeys from military service to a well-suited civilian life made possible for some, by the post 9/11 G.I. Education Bill.
Several veterans from all branches of service attended the forum to learn that the possibilities for civilian-life careers are endless.
Aside from his boyish good looks, Cody stood out in the crowd because of his hoodie. A fiery skull across his back was encircled with the words "Camp Leatherneck, Afghanistan."
A political science student at Fresno State with a minor in history, Cody doesn't look nearly old enough to have spent four years in the Marine Corps or become fluent enough in the Afghan language of Pashtoo to serve as an interpreter, but he did. And he says he's just getting started. 
Just two days after completing his service in the Marines, Cody was in line registering for classes at Fresno City College. In addition to his studies, Cody served as a Veteran's representative on the FCC Board of Trustees, and is currently a Veteran's Transfer Officer with the Fresno State Student Veterans Organization, yet he refers to himself as just "a local boy". His parents tell him to calm down a bit and have some fun, but Cody is more eager than ever. After attaining his B.A. next spring, he plans to enroll in law school at SJCL. Cody has planned on being a lawyer since he was a kid.
Growing up, Sean had two big goals for his life. He wanted to be a pilot, and also maybe an attorney. His father was a Merchant Marine, but at the age of 17, Sean joined the Army National Guard. He attended officer and flight schools and eventually became a Black Hawk helicopter pilot serving in Afghanistan, among other places.
Since leaving the military three years ago, Sean has been transitioning to civilian life. He came to the Veterans to Law School Forum because of his interest in aviation law, but he also likes the idea of helping fellow veterans.
After being honorably discharged from his service in the Navy, Panelist and Fresno Defense Attorney Gary Caine's (Law '12) civilian transition included joining a rock band and dabbling in real estate. What he really wanted, however, was to continue fighting for something bigger than himself. Gary was able to use his military-infused work ethic and determination to complete law school at SJCL. He then went on to pass the Bar Exam (on the first try) and became a partner at The Caine Law Firm. 
John Miser, (Law '16) agrees that chasing a paycheck after the military felt empty. He too liked the team culture and mission-oriented sense of purpose he found during his time as a Military Intelligence Integrator. John's current role as in-house counsel for an International Market Research Company provides that same sense of team and mission with interesting and unique experiences. 
Sally Moreno (Law '95) is a Senior Deputy District Attorney for the Fresno District Attorney's Office. Her military service started in college with the ROTC. She served in Desert Storm, and became a police officer. She says she appreciates SJCL's legal network all around the Valley, and the team spirit of the legal community. Because of it, she has been able to step out and back again into her career to focus on marriage and children.
The panelists agreed that the discipline, structure, and tenacity they learned in the military helped them to succeed through law school and beyond. Jason Trupkin (L3) noted "everyone who is a vet has already experienced the greatest stress in (their) lives. Law school pales in comparison to military service."
Monique Taylor (L2) says a common military term "Embrace the suck" seems appropriate for law school, as well as life in general. 
As each speaker at the forum shared their story, the veterans in the crowd seemed to grow more convinced that military experience provides widely transferable civilian skills. 
The opportunities are there, says Senior Deputy District Attorney Moreno, "you just need to find the solutions… and accomplish your new mission."