---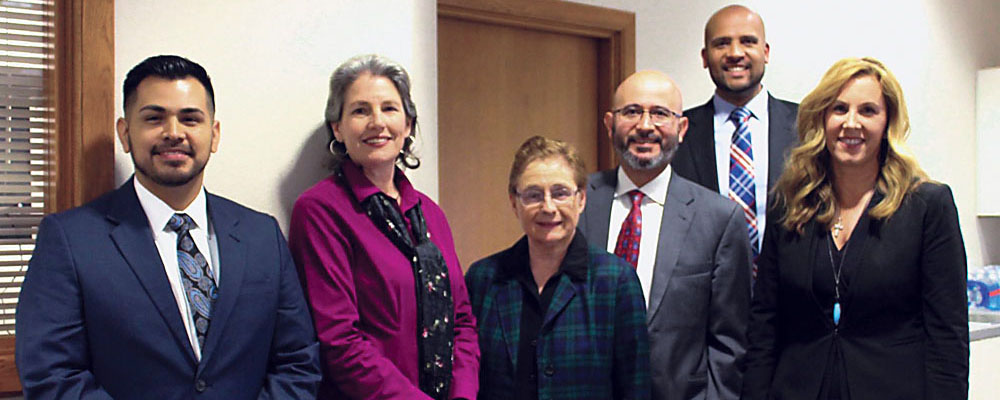 Top Five Helpful Takeaways from our 2017 Career Panel
It's no secret how committed we are to help people to and through their law school journey. As the only accredited law school within a 120-mile radius, we wanted to give potential students the opportunity to hear from five of our alumni about some of their challenges during law school, best advice after graduation and much more!
While there was a ton of helpful information given by our panelists, here are the top five key takeaways from the panel:
"The hard part is that where you are in life now will have to take a backseat because law school has to be #1 in your life."
– Lazaro Salazar, Immigration Law
Before attending law school, Lazaro had two major life events going on: he was moving back to the U.S. from Japan to go to school and had just met his girlfriend (now his wife). When he started law school, he told her he was going to be absent for the upcoming year because he planned on working full time and attending law school in the evenings. He knew this was something he had to do and both of them understood. So he promised he would be there for her 100% one day a week, every week. It was this communication and mutual understanding that helped both of them get through.
"Who you are now as a spouse, parent or whatever needs to take a backseat to law school because your first year is never the best year," Lazaro said. "But once you get beyond your first year, then you start to think like a lawyer, you get closer to graduating and you start preparing for the bar and pretty soon, you realize you're getting ready to start practicing what you've learned and put it to use."
Whether it's your family, your friends or whoever, you must be honest with your loved ones and let them know that going to law school is important to you. A valuable trait for any lawyer is the ability to manage and to be successful in law school, you will have to manage your time and relationships.
"Law school teaches you the process, but the rest is up to you. You have to learn how to study efficiently."
– Brandon Collet, Deputy City Attorney
The truth is law school requires a massive amount of reading and studying. As Brandon said during the panel, it doesn't matter how smart you think you are because you're learning a whole new way of thinking and learning material you've never learned before. 
"My first year of law school was the hardest thing I've ever done academically because I just wasn't getting it and I've rarely been put in situations like that," Brandon said. "It scared me because there were people around me saying they were getting it and I wasn't."
With a little perseverance, the right attitude and plenty of Monster energy drinks, Brandon stuck through it, figured out the best method of studying that worked for him and made sure he was successful. 
"You have to be passionate about what you want to do. You have to become the best you and find out what you love doing."
– Sally Moreno, Senior Deputy District Attorney
Let's face it, when there are cultural barriers holding you back from pursuing your dreams, it can be tough. One attendee's family members told her enrolling in law school would be a waste of time for her and she should instead focus on getting married and settling down. The truth is, law school is an investment for more than just yourself. It's an investment for your future, your family and your career. 
"The law can help you in so many ways to lend yourself to whatever it is that you're passionate about," Sally said. "And when you find that, it becomes your center and with any luck, you find someone who comes along beside you and the rest resolves itself. But find what you love, become the person you're meant to be and the rest will work out."
The journey through law school isn't the easiest one, but if you love what you do, then it's definitely a rewarding one. 
"You get to make a decent living, change people's lives and do something you love."
- Jonathan O. Peña, Social Security Disability Law
All panelists agreed that the first year of law school is the toughest. While it may not be easy to keep the big picture in mind, becoming a lawyer can lead to a very fulfilling life and career. 
"Obviously, there's financial benefits to being a lawyer and a big reason people go to law school to is make a good living," Jonathan said. "You get to do that, but you can also make a difference in the lives of people you meet."
However, it's important to understand that you will need to make sacrifices while you're in law school. From late study nights to learning new ways of thinking, it can be overwhelming at times.
"During your first year, you have to be realistic because it's going to be tough, but just remember you're all struggling together," Jonathan said. "You'll build relationships and friendships with your classmates that you take with you for the rest of your life."
Those relationships proved beneficial for Jonathan. Two of his former classmates helped him move forward and encouraged him to start his own practice. They provided the encouragement he needed to take the plunge and without them and the first year struggles they went through together, he wouldn't be where he is today. 
"You don't get hired based on a resume. You get hired based on a face and a relationship. Make connections."
- Rene Sample, Cornwell & Sample
As an employer, Rene has hired several attorneys from San Joaquin College of Law – law clerks, interns, etc. She has students that call her all the time asking about the job market. So what's the best way to ensure you have a job waiting for you after you graduate?
"When you call someone in the industry that's an SJCL graduate and tell them you go here or you're thinking about attending, people will open the door for you, they'll answer your questions and let you know about the job market and what firms are hiring," Rene said. "It's just that kind of a community where everybody takes care of everyone." 
That couldn't be more true and we're thankful to be a part of such a great law community! 
Thank you to our awesome panelists for taking time out of their busy schedules to speak to potential students and provide such valuable insight. This event wouldn't be possible without you all! 
If you didn't get to attend our Career Panel, you can watch our Facebook Live HERE.
If you're interested in attending law school and would like to talk to our admissions team about next steps or to find out if it's the right career path for you, click HERE. 
If you're to enroll at San Joaquin College of Law in the fall, taking the Law School Admissions Test (LSAT) is the first step. The last test for 2017 will be administered on June 12, but the deadline to register for the test is April 26!
Click here to register.