Hugh Goodwin Bar Scholarship
Amount: $5,000 (in tuition)
Sponsored by the Hugh Goodwin Bar Association and SJCL
Download Brochure/Application (PDF)
Qualifications: The applicant must be accepted as an incoming first year law student at SJCL, submit resume showing a record of community service and submit an essay of no more than 500 words explaining why he or she is interested in practicing law in the Valley. The applicant must self-identify as a member of a racial or ethnic group which is underrepresented in the legal profession, including African American/Black, Asian American/Pacific Islander, Hispanic/Latino or Native American/American Indian.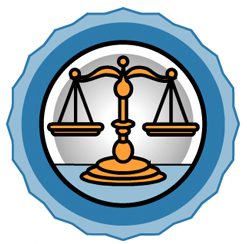 The Hugh W. Goodwin Bar Association
In the 1990's, in recognition of his outstanding and trailblazing service to the legal community, the Black Lawyers Association of Fresno changed its name to the Hugh W. Goodwin Bar Association, an affiliate of the California Association of Black Lawyers.
The Hugh W. Goodwin Bar Association (HGBA) encourages fairness and equity in the administration of justice, educational outreach to the community about the law and the legal process and community service – all in honor of the Honorable Hugh W. Goodwin.